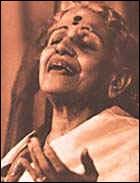 http://www.rediff.com/news/2004/dec/11ms1.htm
Read this news just now. Wat a sad news 🙁
"The vocalist died peacefully in her sleep," Dr C V Krishnaswamy, who treated her at the St Isabel hospital, told PTI.

I am a very great fan of her. Especially Bhaja Govindam and Vishnu Sahasranamam. I used to listen to these bhajans during my stay in vizag. It is the way i started my day for almost 15months.
Before coming to iim-i i have removed all the files on my hdd and lost the bhajans. After coming here i have asked jaani to send the cds from vizag. It is another story that the courier was lost in transit. Such a great voice.
Lets pray that her great soul rests in peace.
Tada!
Hello Awesome...
My name is Chandoo. Thanks for dropping by. My mission is to make you awesome in Excel & your work. I live in Wellington, New Zealand. When I am not F9ing my formulas, I cycle, cook or play lego with my kids. Know more about me.
I hope you enjoyed this article. Visit Excel for Beginner or Advanced Excel pages to learn more or join my online video class to master Excel.
Thank you and see you around.
Related articles: