Save a quarter buck everytime you buy coffee at starbucks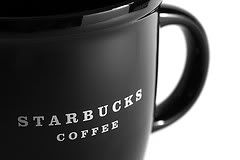 I am coffee drinker. And I love various types of coffee; be it the Chennai strong filter coffee or the medium-blend of Starbucks, I just love to sip a cupfull every morning.
Since I love coffee so much I thought why not share a little secret about coffee buying with you all.
Assuming you buy a small cup of coffee at Starbucks for $1.60, here is how you can save 25 cents everytime you buy coffee:
Bring your own cup Most of us anyway have a cup at our office desks, so just bring it to the starbucks counter and get your coffee in it. Your coffee will be 10 cents cheaper.
Ask for coffee TO GO Do you know that in most states you will not be charged sales tax on food items if you dont consume it in the seller's premises (ie saying TO GO). That is right. So, by saying "coffee to go" you can save the sales tax on your cup, which is usually between 6 to 9% of the price, around 15 cents.
Do know any tips to save money on your favorite purchases?
More personal finance hacks
Using google docs to keep track of your budget
Manage your stock porfolio using google spreadsheets
Do you need to buy a house? Findout using this excel
PS: as noted the sales tax exemption applies to most states in US and not just limited to Starbucks coffee but to most fast food retailers
Hello Awesome...
My name is Chandoo. Thanks for dropping by. My mission is to make you awesome in Excel & your work. I live in Wellington, New Zealand. When I am not F9ing my formulas, I cycle, cook or play lego with my kids. Know more about me.
I hope you enjoyed this article. Visit Excel for Beginner or Advanced Excel pages to learn more or join my online video class to master Excel.
Thank you and see you around.
Related articles: