Friends & Readers of Chandoo.org,
I am so happy to tell you that our VBA Classes are now open for your consideration. Please read this short post to understand the benefits of this program & how to join us. Click here to join our classes, if you are ready.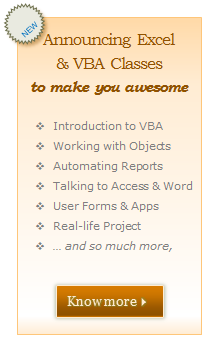 What is this VBA Class?
VBA Class is a structured and comprehensive online training program for learning Microsoft Excel VBA (Macros). It is full of real world examples & useful theory.
The aim of VBA Classes is to make a beginner an expert in VBA.
What are the benefits of this program?
Oh so many. Your boss might fall in love with you. You might suddenly find a lot of free time to finish that book or watch that movie, thanks to all the time you save by automating your Excel work. Apart from this,
Clearly defined content: Learn VBA & Excel in simple, everyday language. Understand things by seeing several real-world examples we made for you.
A-Z of everyday VBA: We did our best to create many everyday VBA examples, instructions & homework so that you will learn A-Z of everyday VBA.
Pause, Stop & Repeat: All our lessons are pre-recorded, so you can watch them anywhere, pause them, stop or repeat at any time.
Ask & Learn: Use our classroom website to ask doubts, get clarifications, download material & more.
Less theory & rote, More practice & fun: We made this course with tons of practical examples, download workbooks & fun exercises so that you can learn better.
What are the topics of this course?
VBA Topics
Introduction to VBA
Understanding Loops, Conditions & Writing VBA Code
Variables & Deep dive in to VBA
Working with Cells & Ranges
Worksheets, Workbooks & Databases
Working with Charts & Drawing Shapes
Dealing with Pivot Tables from VBA
User Forms & Databases – Basics
User Forms – Advanced
Integration with other Office Apps
Additional VBA Techniques – Arrays, Practical Examples
Class Project & More
Bonus Module #1: Introduction to Programming
Bonus Module #2: Debugging your Code
Bonus Module #3: Working with Databases
VBA Classes – Course Details & Brochure.
Join our VBA Classes today
Click here to join our VBA classes.
More links & Information about VBA Classes
For more details, please go thru these links:
Doubts & Questions?
If you have any doubts or questions about this program, please leave a comment & I will get back to you with answers. You can also reach me at chandoo.d @ gmail.com or call me at +91 814 262 1090 or +1 206 792 9480. I will be very glad to answer your questions.
Thank you so much
Thank you so much for your continued support to Chandoo.org. You are awesome, because you want to learn new things & improve.
PS: If you are totally new to VBA, checkout our Introduction to VBA series.
PPS: Join our VBA classes and see what magical things you can do. Click here.