Today is my kids' (we have twins – boy & girl) 3rd birthday. As we celebrate the day, I want to take a moment away from all Excel stuff and share my experience being a dad. Grab a cup of coffee or whatever keeps you going, relax and read on.
The first shock
My first shock of being a dad arrived even before my kids were born. It was the first ultrasound scan Jo (my wife) went thru. The nurse announced,
I hear two heart-beats. Let me re-check
It would not be an understatement to say Jo and I skipped a few heart-beats hearing that! We never thought we would be blessed with twins. While we are doubly happy we also worried whether we can be good parents.
To top it, when they turned up we realized that we have one of each – Nakshatra (girl) and Nishanth entered our world on September 24th, 2009.
(Note: In India parents are not allowed to know the sex of baby before they were born, hence the surprise)
My 6 Daddy years…
A quick TODAY()-DATE(2009,9,24) tells you that it has been only 3 years since my kids were born. But I have amassed 6 daddy years, thanks to raising twins!
In these 6 years, there were a handful occasions when I felt like sending a classified ad to newspapers to this effect:
Take one or both. 2 lovely kids, well raised but naughty. Potty trained and can brush their teeth. Hurry up!
But better sense prevailed and we kept them 😀
To be honest, they are not all that mischievous. But sometimes they get on our nerves so bad.
A dinner to remember
After spending probably zillion nights eating at home, one day, my wife declared, "Honey, lets go out tonight." We usually leave the kids with our in-laws (they live close by) when we do this. But that day we must have been possessed by cruel demons. Why else would I say, "Lets take the kids along!"
And all 4 of us got in to a car and went. We did a bit of shopping (getting new clothes for kids for their upcoming birthday) and reached the restaurant. Being weekend it was full. So I left Jo & kids at lobby and went inside to book a table.
Let me break this story at this point and give you one basic rule of parenting.
You need 100% attention of one adult per one children when they are in public places.
Coming back to the lobby, as I walked inside, suddenly Nishanth and Nakshatra felt liberated & started running like incredible hulk after breaking free from underground army prison. With in a span of 30 seconds, Nakshatra walked to a near-by mini pond and sat on the ledge. As Jo managed to lug Nishanth from the other corner to that pond, Nakshatra made a backward move with a swiftness rarely seen outside tom and jerry cartoons.
SPALSH!
She is drowned up side down and started crying aloud.
Thankfully, Jo quickly pulled her out. But now all her clothes are wet and she is shivering a lot.
Fortunately, we had new clothes in the car. So I took her to the car and changed. By the time I got back, Jo already got us seats and ordered something. So we started eating. And then, Nakshatra wanted to pee. So Jo took her to the rest-room. And then Nishanth started running behind them. So I followed him.
Meanwhile a clever waiter noticed an empty table with no food items. He promptly asked the next group to occupy it.
When all of us got back, we had 4 strangers looking hungrily at our order of chicken something, Indian breads & something else!
I will not bother you with how the rest of dinner, drive to dessert place and drive back home went. But rest assured that we had few more nasty surprises.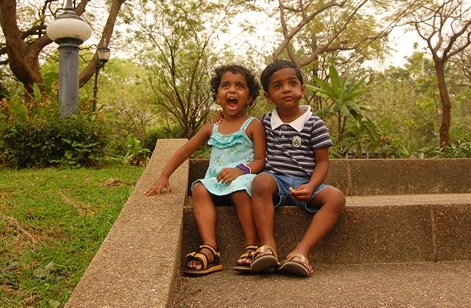 The car that wont start
My kids have taken a strange fancy to keys & key holes. Once every few weeks they invent a hare-brained scheme to spoil a lock, key or something. Once when visiting family friends, my son has managed to bend my car keys by 900. Fortunately they had a hammer and we could twist it back.
But we are not always so lucky. Recently, in one of their invented games, they poked small sticks in to the key hole my car. Later when I tried to open the door, it was jammed. I ended up calling the service center folks and they sent a technician who gave me the look, "Sucker! I am sure you will become a regular customer".
This is not a one off thing. I had same experience with my bike key hole, car trunk key hole and  our gate locks. And did I tell you my kids derive a lot of pleasure locking the doors when we are in bath?!?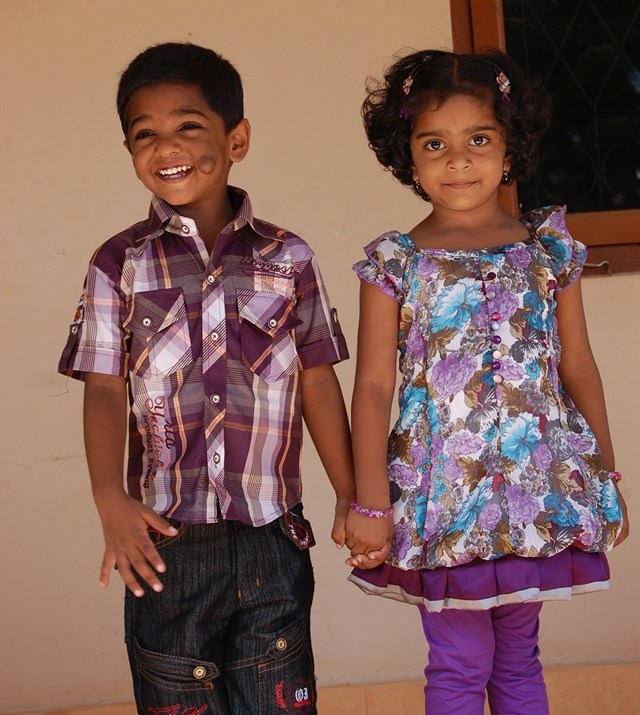 But its not all that bad
If there is one thing I am doing more after my kids are born, it is laughing & smiling. We (Jo and I) laugh at least a dozen times everyday watching the kids. They make us immensely happy. It is a joy to watch them grow, take good care of each other and learn things. Their innocent smiles and immense curiosity put us at ease almost immediately even when we are tired, stressed or worried. And that is worth more than a jammed key hole or spoiled dinner.
I wish you many more years of happiness, health & wealth Nakshatra & Nishanth. Now go and have the cake.
Just don't spoil your new clothes 😛
PS: If you have kids, Learn Excel. You will have more free time to chase those little lunatics.