All articles with 'sumifs' Tag
Recently, I saw this chart on Economist website.
It is trying to depict how various cities rank on livability index and how they compare to previous ranking (2014 vs 2009).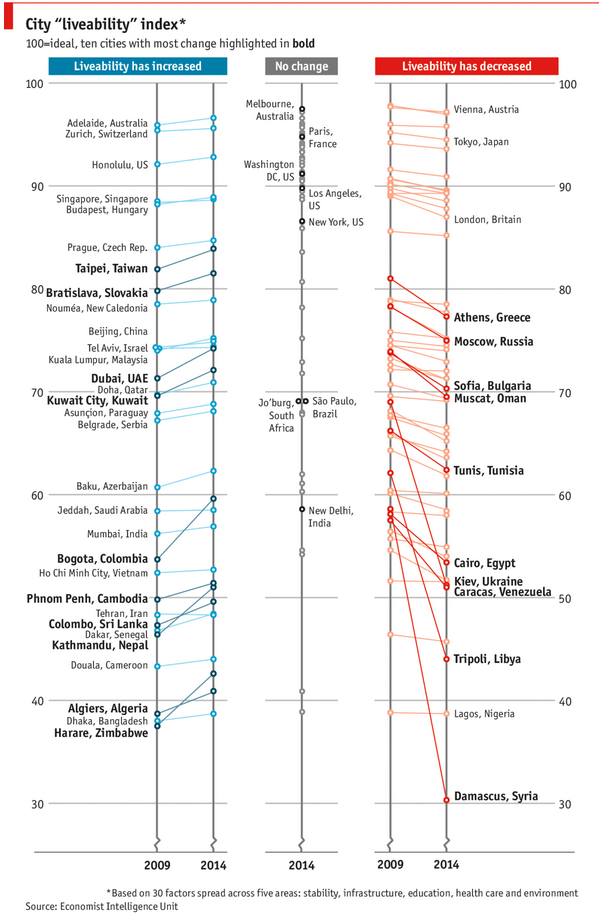 As you can see, this chart is not the best way to visualize "Best places to live".
Few reasons why,
The segregated views (blue, gray & red) make it hard to look for a specific city or region
The zig-zag lines look good, but incredibly hard to understand % changes (or absolute changes)
Labels are all over the place, thus making data interpretation hard.
Some points have no labels (or ambiguous labels) leading to further confusion.
After examining the chart long & hard, I got thinking.
Its no fun criticizing someones work. Creating a better chart from this data, now thats awesome.
Continue »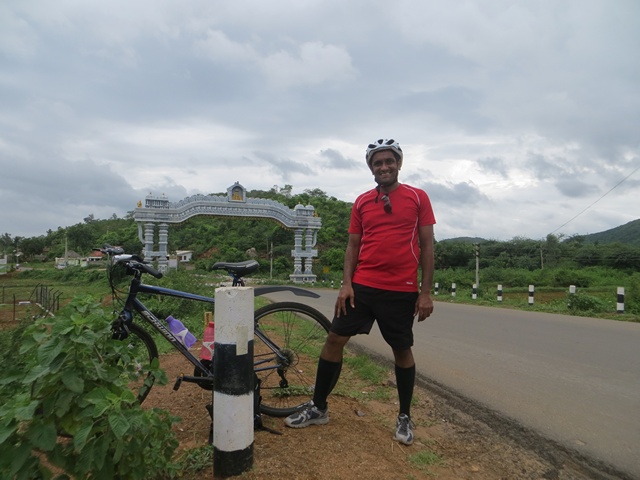 Ok people. Let me tell you that this post is almost not about Excel. It is about how one Excel blogger's (yours truly) dream of long distance cycling came true. So sit back, grab your favorite drink and read between sips.
So what is this all about?
Last Sunday (27th July) & Monday (28th), I finished my first ever 200KM bicycle ride. I rode for a little more than 12 hours, burned 5,179 calories & rode 206 kilometers.
It is definitely one of the most memorable, tiresome & uplifting experiences in my life. So naturally, I want to share the story with you.
Continue »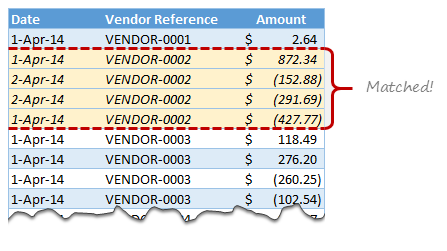 Imagine you are the head of Accounts Receivable department at a large company. Drab, I know, But humor me and imagine.
Now, every month you get a transaction report.
And you want to know which numbers are matching up.
i.e, if your company gave Vendor-0002 $872.34 on 1st of April, 2014 and your received below payments from them subsequently,
$427.77 on 1st April
$152.88 on 2nd April
$291.69 on 2nd April
Then you consider the account matched since the total received is same as total payable.(427.77 + 152.88 + 291.69 = 872.34).
Continue »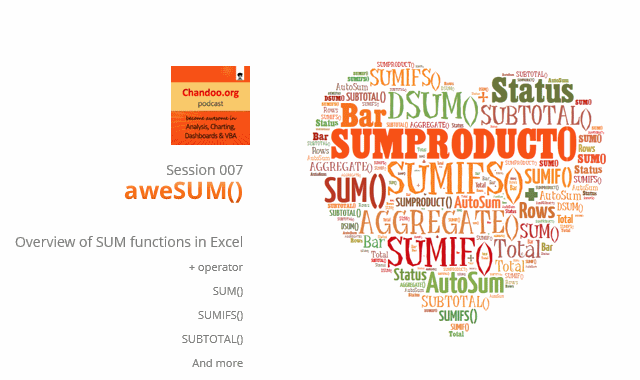 Podcast: Play in new window | Download
Subscribe: Apple Podcasts | Android | RSS
In the 7th session of Chandoo.org podcast, lets make you aweSUM().
Imagine for a second that Excel cannot add up numbers. And no it cant subtract them either. What would that look like?
A glorified Notepad. That's right. Excel's ability to add up numbers, along with features like formulas, charts, pivot tables & BHATTEXT() are what make it such a lovely software. May be not the BHATTEXT(), but we all agree that Excel is so versatile and useful because it can add up numbers (and perform other calculations) with ease.
But how well do you know the SUM formulas of Excel?
In this podcast, you will learn,
Special personal fruit announcement 😛
+ operator
Status bar & total rows in tables
Auto Sum feature
SUM() function
SUMIFS function
Special cases of SUMIFS function
SUBTOTAL & AGGREGATE functions
Other summing functions – SUMPRODUCT etc.
Continue »
Ever seen a formula like =SUMIFS(Sheet1!B2:B3923, Sheet1!C2:C3923, A1, Sheet1!D2:D3923, A2) and wondered what it is really doing?!?
If so, you are not alone.
Formulas written with cell references tend to look complicated and clunky. What if we could write formulas in plain English?
That is what Structural References do. When using structural references in formulas, your focus will be on your data, not on which cell ranges the data takes up.
For example, you can write formulas like these:
1) SUM(mySales[no. of customers]) to find how many customers we had.
2) SUMIFS(mySales[no. of customers], mySales[product], "FastCar") to find how many customers bought "FastCar"
Continue »
Last week, we had our very first quiz – "How well do you know your LOOKUPs?". I hope you have enjoyed it.
Today lets understand the answers & explanations for this quiz.
Continue »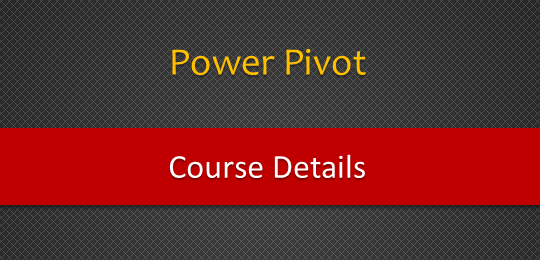 Hello folks,
If this article was a person, they would be schizophrenic. You see, it has 2 purposes:
Give you all the details about my upcoming Power Pivot course
Give you a solution to last week's vacation days problem
Details about Power Pivot Course
Power Pivot, an Excel add-in makes it easy to connect, analyze & visualize massive amounts of data. This course aims to teach you how to use Power Pivot to analyze data, create advanced reports & prepare dashboards all from familiar interface of Excel. This is ideal for data analysts, reporting & MIS professionals, business analysts, managers & dashboard makers.
Continue »
HR managers & department heads always ask, "So what is the vacation pattern of our employees? What is our average absent rate?"
Today lets tackle that question and learn how to create a dashboard to monitor employee vacations.
What do HR Managers need? (end user needs)
There are 2 aspects tracking vacations.
1. Data entry for vacations taken by employees
2. Status dashboard to summarize vacation data
Continue »
Few weeks ago, someone asked me "What are the top 10 formulas?" That got me thinking.
While each of us have our own list of favorite, most frequently used formulas, there is no standard list of top 10 formulas for everyone. So, today let me attempt that.
If you want to become a data or business analyst then you must develop good understanding of Excel formulas & become fluent in them.
A good analyst should be familiar with below 10 formulas to begin with.
Continue »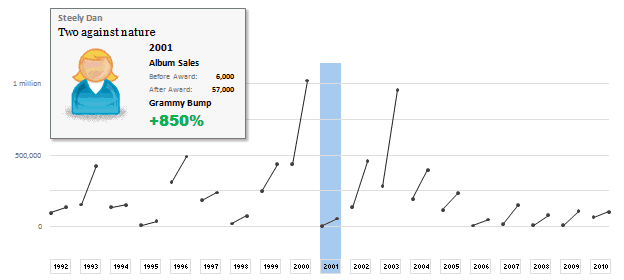 Everyone likes to be in control. Even my 2 year old daughter jumps with joy when she lays her hands on TV remote. She pushes the buttons and assumes it is working. It is another story that we rarely watch TV at home.
By adding an element of control, we can make our dashboard reports fun. Interactive elements like form controls, slicers etc. invite users to play with your dashboard, get involved and understand data by asking questions. That is why I recommend making dashboards interactive.
Today lets understand how you can make dashboards interactive.
Continue »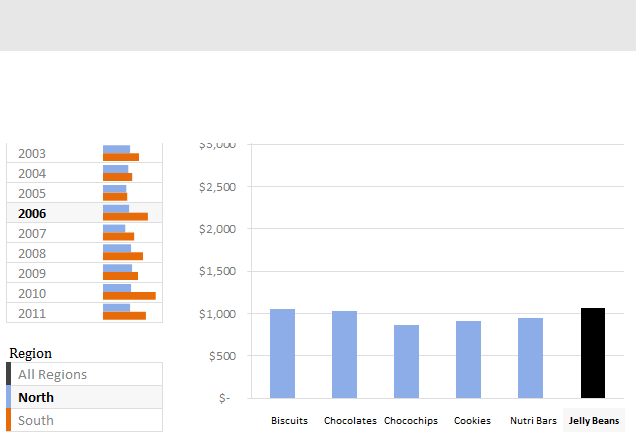 Finally, I got some time to sit down and do what I love most – write a blog post to make you awesome in Excel. After a whirlwind trip to Sydney, I am back in India to spend few days with my kids & wife before rushing to Australia to run 2nd leg of my training programs (in Perth, Melbourne & Brisbane). I did 2 sessions in Sydney – one for KPMG and other for public and both went very well. We got lots of positive feedback and people really loved it. I am saving the details for another post, but today lets talk about Interactive Sales Chart using Excel.
Take a look at the Interactive Sales Chart
First, take a look at interactive sales chart. Today, you will learn how to build this using Excel.
Continue »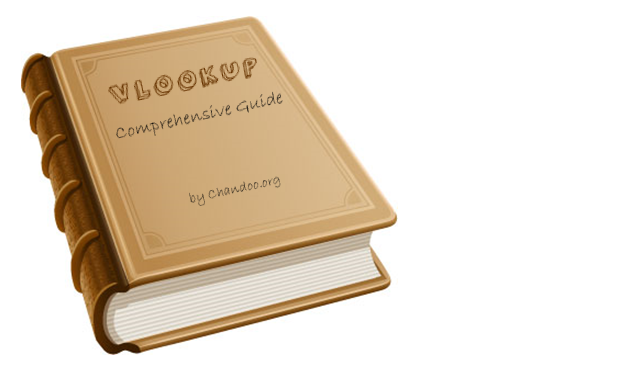 This week many Excel bloggers are celebrating VLOOKUP week. So I wanted to chip in and give you a comprehensive guide to VLOOKUP & Other lookup formulas. Read on …,
What is VLOOKUP Formula & how to use it?
I often tell my excel school students that learning VLOOKUP formulas will change your basic approach towards data. You will suddenly feel that you have discovered a superman cape in your attic. It is that awesome.
Continue »

Excel formulas acting slow? As part of our Speedy Spreadsheet Week, today lets talk about optimizing & speeding up Excel formulas. Use these tips & ideas to super-charge your sluggish workbook. Use the best practices & formula guidelines described in this post to optimize your complex worksheet models & make them faster.
1. Use tables to hold the data
2. Use named ranges & named formulas
3. Use pivot tables
4. Sort your data
5. Use manual calculation mode
… and more. Read on to learn these top 10 tips & ideas to improve performance of your excel formulas.
Continue »
Lets just say, you run a nice little orange shop called, "Joe's Awesome Oranges". And being an Excel buff, you record the daily sales in to a workbook, in this format. After recording the sales for a couple of months, you got a refreshing idea, why not analyze the sales between any given 2 dates? […]
Continue »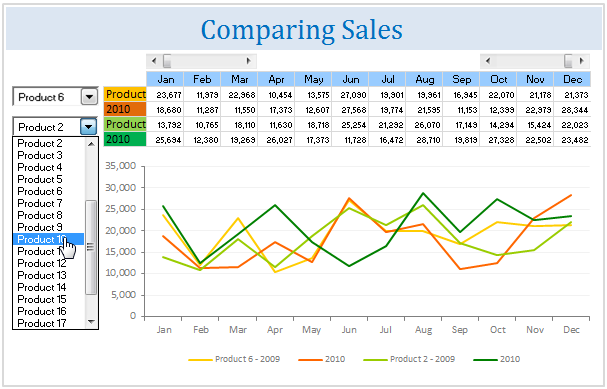 This is a guest article by Theodor on how to Compare Sales of One Product with Another
Ok, now here's one for you.
Suppose you'd like to come up with a sales report on different products, comparing their evolution on the same period of different years (say Jan '09 vs. Jan Jan '10). At the same time, you'd like to keep an eye on their yearly trend (entire 2009 vs. entire 2010).
Read on to learn how you can use Excel Charts to do this very easily.
Continue »