All articles with 'list posts' Tag
Every week, we read news about failed analysis projects. If you listen carefully, you can hear the grunts, screams and curses of thousands of analysts all over the world about their analysis nightmares.
At Chandoo.org, we talk a lot about best practices for data analytics. So today, let's peek in to the dark side and understand the mistakes that can turn your analysis project into a nightmare.
There are 3 parts in any analysis project
To understand these worst practices in analysis world, first let's break analysis projects in to 3 parts.
Requirements
Data Structure
Tools & Construction
Let's deep dive in to each area of the analysis projects to see what can go wrong.
Continue »
Around 2 months back, I asked you to visualize multiple variable data for 4 companies using Excel.  30 of you responded to the challenge with several interesting and awesome charts, dashboards and reports to visualize the financial metric data. Today, let's take a look at the contest entries and learn from them.
First a quick note:
I am really sorry for the delay in compiling the results for this contest. Originally I planned to announce them during last week of July. But my move to New Zealand disrupted the workflow. I know the contestants have poured in a lot of time & effort in creating these fabulous workbook and it is unfair on my part. I am sorry and I will manage future contests better.
Continue »
Podcast: Play in new window | Download
Subscribe: Apple Podcasts | RSS
In the 54th session of Chandoo.org podcast, let's make you awesome in Pivot Tables.
What is in this session?
In this podcast,
Quick updates
Top 10 pivot table tricks

Adding same value field twice
Tabular layouts
GETPIVOTDATA & 2 bonus tricks
Relationships & data model
One slicer to rule them all
Show only top x values
Relative performance
Show unique count
Spruce up with conditional formats
Not so ugly pivot charts

Resources & Show notes for you
Continue »
2015 has been the busiest year since starting Chandoo.org.
Wow, that is 12 years of breaking previous records. Thank you.
In 2015, we published 124 posts (down 3% YoY), received 6,300+ comments (up 5%). Our forum too had busy year with 1000s of new members and 5,000+ new threads. Chandoo.org podcast continued to shine, we had 24 episodes this year and reached the 50 episode milestone. Our podcast episodes has been downloaded more than 900,000 so far since launch (in March 2014) with 600,000+ downloads this year alone!!!
Fun fact: People have spent 6.8 million minutes in 2015 listening to Chandoo.org podcast. (assuming only 50% of downloads materialized to listens)
We have trained more than 1,800 people thru my online classes – Excel School, VBA Classes & 50 ways to analyze data program.
Continue »
Podcast: Play in new window | Download
Subscribe: Apple Podcasts | RSS
This is going to be epic!!! In the 50th session of Chandoo.org podcast, we have 50 Excel tips to make you awesome.
What is in this session?
In this podcast,
Thank you message
Fifty tips in 5 buckets

Shortcuts & Productivity
Formulas
Managing Data
Charts
Using Excel better
Continue »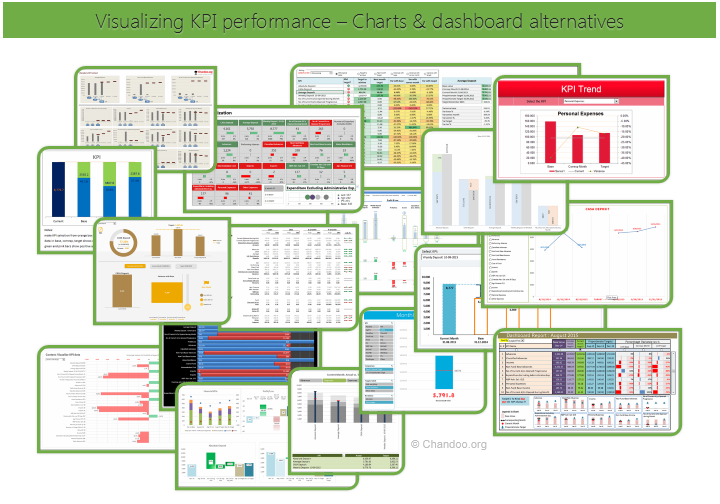 Hello all, prepare to be amazed! Here are 43 creative, fun & informative ways to visualize KPI data.
About a month ago, I asked you to visualize KPI data. We received 65 entries for this contest. After carefully reviewing the entries, our panel of judges have discarded 22 of them due to poor charting choices, errors or just plain data dumps. We are left with 43 amazing entries, each creatively analyzed the data and presented results in a powerful way.
How to read this post?
This is a fairly large post. If you are reading this in email or news-reader, it may not look properly. Click here to read it on chandoo.org.
Each entry is shown in a box with the contestant's name on top. Entries are shown in alphabetical order of contestant's name.
You can see a snapshot of the entry and more thumbnails below.
The thumb-nails are click-able, so that you can enlarge and see the details.
You can download the contest entry workbook, see & play with the files.
You can read my comments at the bottom.
At the bottom of this post, you can find a list of key charting & dashboard design techniques. Go thru them to learn how to create similar reports at work.
Thank you
Thank you very much for all the participants in this contest. I have thoroughly enjoyed exploring your work & learned a lot from them. I am sure you had fun creating these too.
So go ahead and enjoy the entries.
Continue »
Analyst's life is busy. We have to gather data, clean it up, analyze it, dig the stories buried in it, present them, convince our bosses about the truth, gather more evidence, run tests, simulations or scenarios, share more insights, grab a cup of coffee and start all over again with a different problem.
So today let me share with you 25 shortcuts, productivity hacks and tricks to help you be even more awesome.
Continue »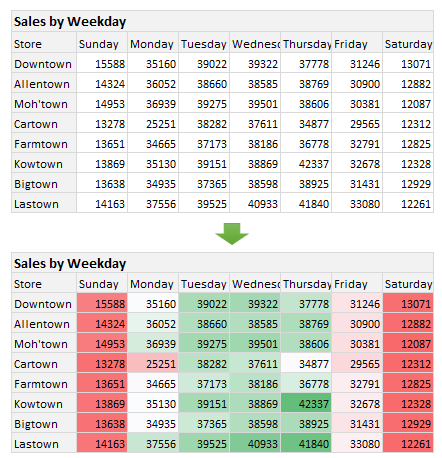 Here is a situation all too familiar.
You are looking at a spreadsheet full of data. You need to analyze and tell a story about it. You have little time. You don't know where to start.
Today let me share 15 quick, simple & very powerful ways to analyze business data. Ready? Let's get started.
Continue »

A lot of analysts swear strong allegiance to keyboard shortcuts. But when it comes to formatting a spreadsheet, these shortcuts go for a toss as formatting is a mouse-heavy activity.
But we can use a few simple & effective shortcuts to zip through various day to day formatting tasks. Let me share my favorite formatting shortcuts.
Continue »
This is a guest post by Sohail Anwar. 
Why do so many of us use Excel? Let's trace it back to the '80s when Microsoft hit gold by being the first out of the blocks with the widely available operating system that was somewhat dummy proof.
Suddenly everyone could aspire to launch 'Nukes' like a fresh faced Matthew Broderick in the film 'War Games'. 
By the early 90's Windows had become even more established relative to other Operating Systems, so much so that PC manufacturers were developing components around Windows' capabilities and suddenly PCs were Windows machines. As big business began accepting the significance of computing, Microsoft started winning huge licensing contracts with all the major corporations in all sectors, but the Finance sector in particular, where Excel would be king, was having an exponential boom at this time. For big organisations, once you spent a fortune buying licences for the Operating System it only made sense to purchase the seamlessly integrated and carefully developed/tested apps to run on them; enter Excel, Word, PowerPoint and eventually Outlook. Fast forward to 2015 and we are firmly in the age of second generation corporate professionals who have developed much of their productivity skill sets around those particular Windows tools. While all the excellent tools have their place, Excel stands out and here are 8 reasons why you need to up your Excel game more than ever this year.
Continue »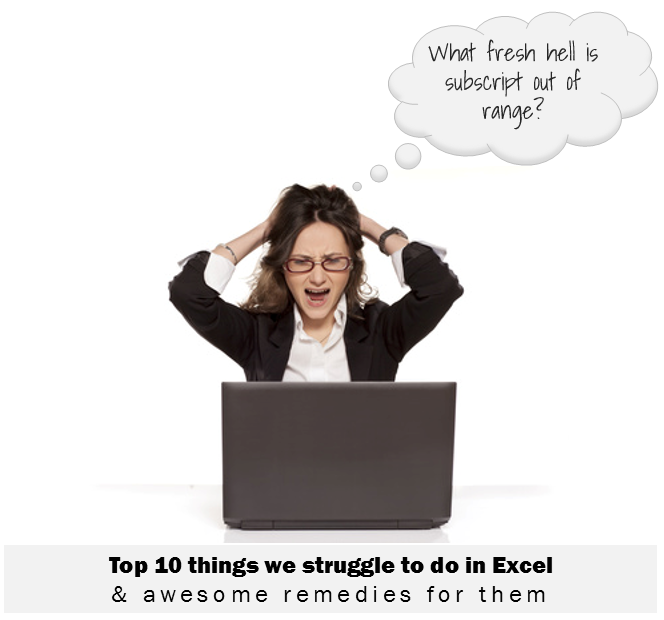 Recently we asked you, what do you struggle doing in Excel? 170 people responded to this survey and shared their struggles. In this post, lets examine the top 10 struggles according to you and awesome remedies for them.
Continue »
Today lets talk about how to build world-class dashboards.
What is a dashboard?
Dashboard reports allow managers to get high-level overview of the business and help them make quick decisions. A dashboard is usually a one page report that contains critical information for decision support.
How to make dashboards?
Excel is an excellent tool to make powerful dashboards that can provide analysis, insight and alert managers in timely manner. But creating a dashboard takes a lot of skill & practice. That is where a resource like Chandoo.org comes handy. In this site you can find more than 200 different dashboard examples, tutorials, samples and downloads – all designed to make you awesome.
Read on to learn more…
Continue »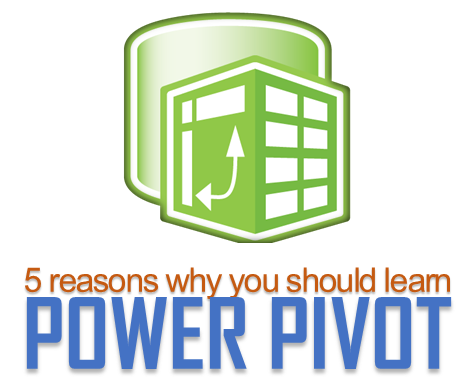 Power Pivot for Excel has come a long way since it was introduced in late 2009. In the last 4 years not only has the technology matured, but also became a standard reporting platform in many businesses. As a smart analyst (or manager), you will gain a lot of mileage by adding this vital skill to your resume.
Today, let me show 5 reasons why you should learn Power Pivot this year.
Continue »
Sometime during the 2nd half of 2013, I finished 10 years of Excel usage. In the last 10 years, I completed my studies, got my first job, married, had kids, visited 15 different countries, quit my job to start a business, bought first car, first house, made dozens of new friends, read 100s of books, wrote a book and learned 1000s of new things. And all along, Excel stayed a true companion. Right from MBA entrance exam preparation in 2003 to making my summer internship project reports in 2005 to planning my wedding expenses in 2007 to getting a promotion in 2009 to planning my kids feeding schedule in 2010 to running a successful business in 2014, Excel helped me in every step.
So today, I want to tell you the top 10 things I learned using Excel in last decade. Grab a hot cup of coffee, buckle your belts and get ready for time travel.
Continue »

This year has been busiest year since inception of Chandoo.org. Wow, that is 10 years in a row of breaking previous records.
We had 101 posts, 7,400+ comments this year. Since our forum went thru a migration, I could not gather exact stats for forum. We have trained more than 2,500 people thru my online classes – Excel School, VBA Classes & Power Pivot classes.
More than 7.5 million people visited our site in last 1 year (up 14%) and consumed a whopping 20 million pages (up 16%). Each of these visitors spent an average of 2 minutes 21 seconds on our site becoming awesome in Excel. There are 1.8 million people who spent at least 15 minutes on our site.
We have added more than 25,000 members to our newsletter / RSS reader community, crossing 80,000 mark. It is a busy year.
Read on to find the best of Chandoo.org in 2013.
Continue »