All articles in 'Featured' Category
Here is a fun, simple and different alternative to traditional dashboards. Introducing…. tweetboards.
Continue »
In this installment of spreadcheats we will learn how to understand excel formula errors and fix them. The #DIV/0!, #NAME?, #N/A, #NULL!, #NUM!, #REF!, #VALUE! errors and how to fix them.
Continue »
Do you want to make a budget vs. actual performance chart but not sure what option to use? Check out these 14 excel charting alternatives and find the one that tells your story.
Continue »
Here is your chance to win a copy of The Visual Display of Quantitative Information by Edward Tufte, all you need to do is visualize budget vs. actual performance of the given data. Go!
Continue »
Today we will learn a little trick to compare 1 value with a set of values, For eg. our sales vs. competitor sales. We will learn how to create a chart like this.
Continue »
We are a big advocate of keyboard shortcuts. I think learning a handful of keyboard shortcuts can improve your productivity tremendously, whether you are using excel or firefox.
But using only keyboard shortcuts is like using only right hand. So, we have compiled 5 incredible ways mouse can help you be productive while using MS Excel.
Continue »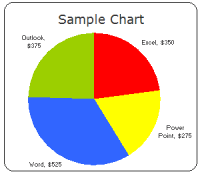 Pie charts are one of the most used charts in the world. And for obvious reasons: they are simple to create and easy to understand. When it comes to pie chart, I have no clear opinion. Part of me says use them, the other says avoid them.
What is your opinion on Pie charts ?
Continue »
Learn how to create Table of Contents in Excel and other tricks to manage when you have too many worksheets.
Continue »
Learn how you can write your own twitter client using Excel. All it takes is excel, internet connection and 5 minutes of spare time.
Continue »
Hurray, PHD blog crossed 2000 RSS Subscriber base. This is a very significant milestone for me.
To celebrate this occasion we have a mega post: 100 Excel & Charting Tips, Tricks and Resources for you.
Continue »
9 charting tricks you can use to make your pie charts likable
Continue »
Here is a list of formulas I wish MS Excel had. Alas, we need to build some work-arounds to solve them though.
Continue »
Happy New Year to all my readers. I am sure 2008 has been many things to many people, but I am hoping it has been an year of productivity and happiness for you. Here is to wishing a great, no, fantastic 2009 for you and your family.
Continue »
After a really long wait finally I have used … Excel 2007 (drum roll) and contrary to what many people think, I have found Excel 2007 to be a very well designed piece of software. Of course there are various issues with it and I am sure folks at MS are working on them so that next versions of MS Office are much more pleasant and simpler to use.
I wanted to share 10 wow factors in Excel 2007 that may convince you to try it.
Continue »
Free excel calendar template for year 2009 (well, it works for any year all the way up to 9999)
Go ahead and download it, change the year number in the first sheet to 1981 or something and see the magic.
Continue »