All articles with 'charting' Tag
We, analysts take pride in the fact that we tell stories. But what if you have a boss, client or colleague who wouldn't buy the story?
This is a problem we face often. Let's say your boss has stubborn opinion about something, like more advertising leads to more sales. You know the data doesn't support this theory. But how do you change your boss' mind?
Here is an interesting way, showcased in NY Times recently.
Continue »
Here is a fairly annoying problem.
Imagine a chart showing both sales & customer data. Sales numbers are large and customer numbers are small. So when you make a chart with both of these, selecting the smaller series (customers) becomes very difficult.
In such cases, you can use arrow keys – as shown above.
Continue »
Podcast: Play in new window | Download
Subscribe: Apple Podcasts | Android | RSS
In the 32nd session of Chandoo.org podcast, let's make legendary column charts.
What is in this session?
Column charts are everywhere. As analysts, we are expected to create flawless, strikingly beautiful & insightful column charts all the time. Do you know the simple rules that can help you create legendary column charts?
That is our topic for this podcast session.
In this podcast, you will learn
Few personal announcements
Rule 0: Start at zero
Rule 1: Sort the chart
Rule 2: Slap a title on it
Rule 3: Axis + grid-lines vs. Lables
Rule 4: Moderate formatting
Conclusions
Continue »
Today is Holi, the festival of colors in India. It is a fun festival where people smear each other with colors, water balloons, tomatoes and sometimes rotten eggs. This year we wanted to play with only water guns, but kids vetoed that idea vehemently. So we ended up driving to my sister-in-law's place to play with colors (there were no rotten eggs or tomatoes, thankfully).
Let me smear a few colors on you
I would love to splash a jug full of color water on you and say Happy Holi. But the internets have not advanced thus far. So I am going to give you the next best option.
An Excel workbook to play holi
Continue »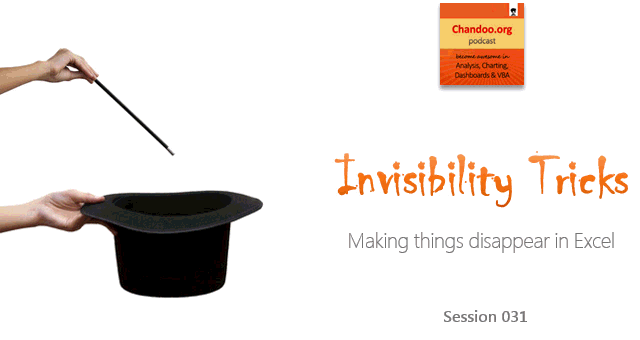 Podcast: Play in new window | Download
Subscribe: Apple Podcasts | Android | RSS
In the 31st session of Chandoo.org podcast, let's disappear.
What is in this session?
Spreadsheets are complex things. They have outputs, calculation tabs, inputs, VBA code, from controls, charts, pivot tables and occasional picture of hello kitty. But when it comes to making a workbook production ready, you may want to hide away few things so it looks tidy.
That is our topic for this podcast session.
In this podcast, you will learn
Quick announcements first anniversary of our podcast etc.
Hiding cells, rows, columns & sheets
Hiding chart data points
On/off effect with form controls, conditional formatting
Making objects, charts, pictures disappear
Disabling grid-lines, formula bar & headings
Hiding things in print
Continue »
Situation: Our commissions are growing way faster than revenues
Let's say you are looking revenues & sales commissions of your company for last few years. The data looks like this:
And you want to highlight the fact that commissions are growing faster than revenues.
So you plot YoY growth rates for revenues & commissions.
Problem: The chart of YoY growth rates is not convincing
Take a look at the chart. It doesn't convey the message that we want. At best it says "revenue growth is less than commission growth"
How to convey the message "Commission growth is a problem for us"?
Continue »
Podcast: Play in new window | Download
Subscribe: Apple Podcasts | Android | RSS
In the 29th session of Chandoo.org podcast, let's impress the boss with Excel charts.
What is in this session?
Many Excel charts live a short life. They spawn in an ambitious analyst's spreadsheet. They go to boss with literally flying colors. The boss frowns, they disappear in to recycle bin.
Don't curse your Excel charts with short life span.
Here is a 6 step road map to help you create awesome Excel charts, everytime.
That is our topic for this podcast session.
In this podcast, you will learn
Quick announcements about 50 ways & Einstein
6 step road map for charting success
ONE: Dig your data
TWO: Validate insights
THREE: Pick charts that go well
FOUR: Add title & message
FIVE: Remove clutter
SIX: Prompt action
A real life example with road map in action
Resources for creating awesome charts
Continue »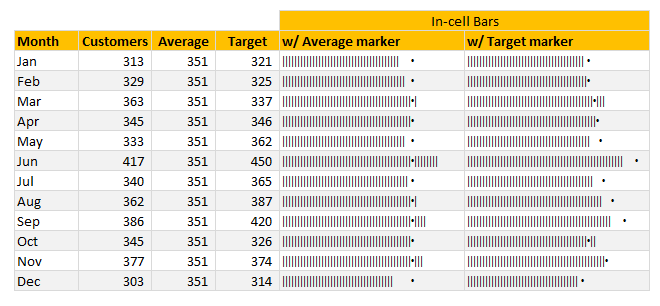 Today, lets talk about an interesting extension to the idea of in-cell charts. Adding average or target markers to the chart.
Adding a marker (like average or target or last year value) can enhance your charts greatly and provide more context. Lets understand how to add marker symbols to in-cell charts.
Continue »
Recently, I saw this chart on Economist website.
It is trying to depict how various cities rank on livability index and how they compare to previous ranking (2014 vs 2009).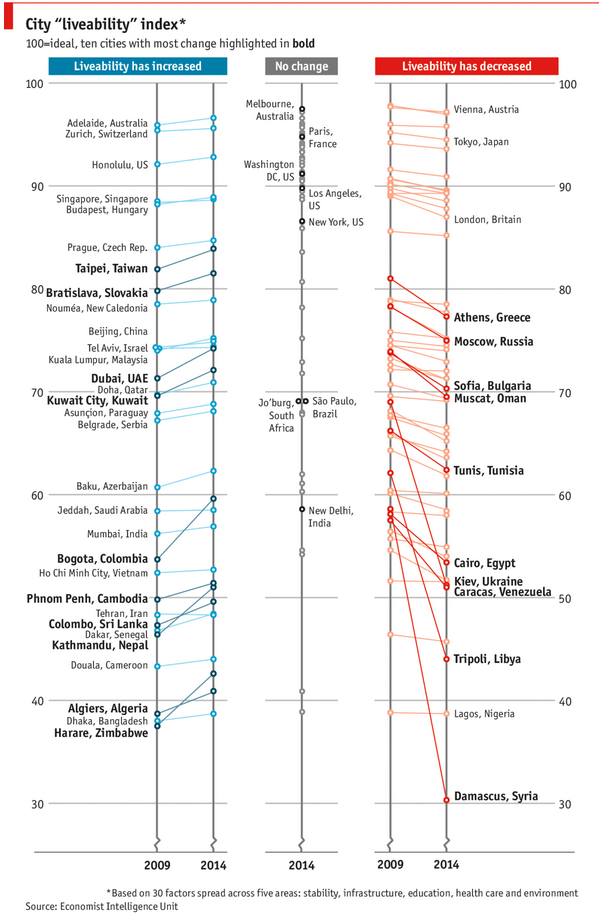 As you can see, this chart is not the best way to visualize "Best places to live".
Few reasons why,
The segregated views (blue, gray & red) make it hard to look for a specific city or region
The zig-zag lines look good, but incredibly hard to understand % changes (or absolute changes)
Labels are all over the place, thus making data interpretation hard.
Some points have no labels (or ambiguous labels) leading to further confusion.
After examining the chart long & hard, I got thinking.
Its no fun criticizing someones work. Creating a better chart from this data, now thats awesome.
Continue »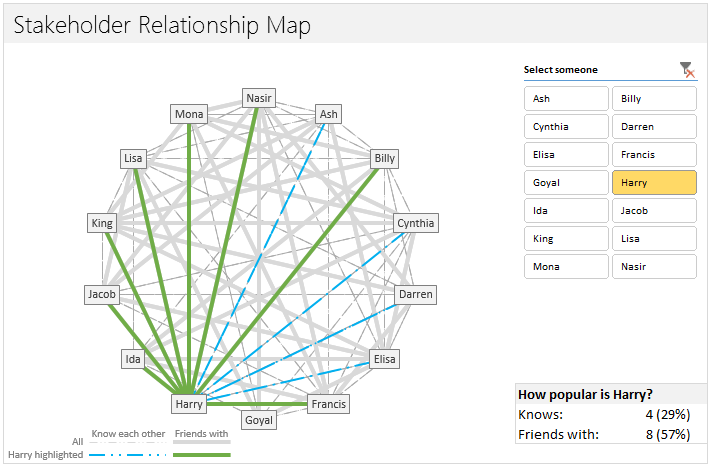 Today, lets learn how to create an interesting chart. This, called as network chart helps us visualize relationships between various people.
Demo of interactive network chart in Excel
First take a look at what we are trying to build.
Looks interesting? Then read on to learn how to create this.
Continue »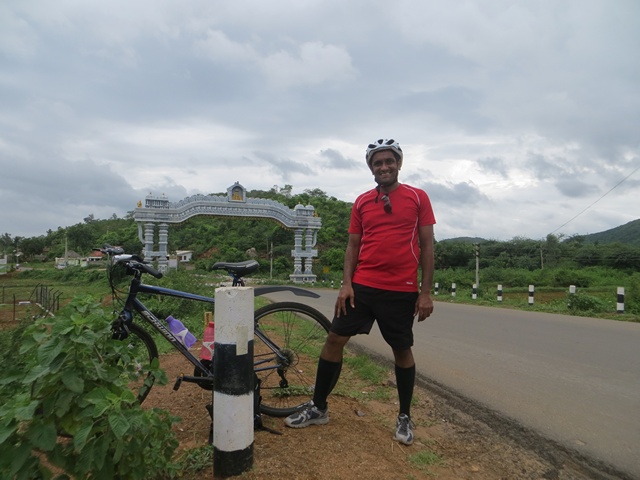 Ok people. Let me tell you that this post is almost not about Excel. It is about how one Excel blogger's (yours truly) dream of long distance cycling came true. So sit back, grab your favorite drink and read between sips.
So what is this all about?
Last Sunday (27th July) & Monday (28th), I finished my first ever 200KM bicycle ride. I rode for a little more than 12 hours, burned 5,179 calories & rode 206 kilometers.
It is definitely one of the most memorable, tiresome & uplifting experiences in my life. So naturally, I want to share the story with you.
Continue »
On July 4th this year, I published an animated fireworks chart for you. Many of you liked it. Quite a few wanted to know how its made.
So here is a video explaining the construction of fireworks.
(You can see this video on our YouTube Channel too)
Continue »
To all our readers & friends from USA,
I wish you a happy, fun & safe 4th of July.
For the last 4th of July (2013), we (Jo, kids & I) were in USA. We went to Washington DC to meet up a few friends for that weekend. And we had one of the most memorable evenings of our lives when we went to national mall area in the evening to watch beautifully choreographed fireworks. Kids really loved the amazing display of fire-crackers and enthusiasm.
While we all are back in India this time, it doesn't mean we cant celebrate 4th of July. So I made some fireworks. In Excel of course.
Here is a little Excel animation I made for all of us.
4th of July Fireworks – Excel animation
First watch this quick demo (<15 secs)
Continue »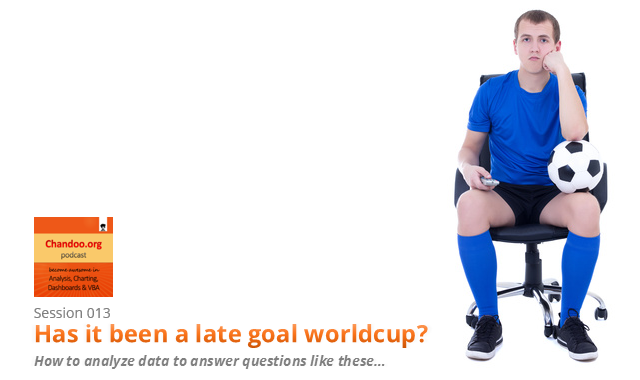 Podcast: Play in new window | Download
Subscribe: Apple Podcasts | Android | RSS
In the 13th session of Chandoo.org podcast, lets turn our attention to on-going FIFA worldcup and ask an important question.

What is in this session?
A week ago, we discussed "Has it been a late goal FIFA worldcup?" and used various charts & analysis techniques to answer the question. In podcast, lets tackle the same problem, understand various approaches to answer questions like these & shares some lessons for all the analysts.
Continue »
Hi friends,
I have a surprise for you. Between the late night world-cup matches & my reinvigorated thirst for biking, I have difficulty finding time to write a long & detailed article for you. So I thought why not say hello to you and share an Excel tip while I am on a biking trip.
Go ahead and check it out. Its just 4 minutes.
Watch it below or on our YouTube channel.
Continue »