Registrations close on October 27, 11:59 PM Pacific Time. Hurry up.
Friends, readers of Chandoo.org, we are very glad to announce Financial Modeling School for your consideration. Please read this short page to understand the benefits of this program and how you can sign-up.
Click here if you want to skip the story and just get in to Financial Modeling School.
What is Financial Modeling School?
This is an online training program to teach you how to develop financial models using Microsoft Excel. At the end of the program you will be able to develop an integrated financial model. We will use a practical case study to understand various steps of modeling & build one by the end of the program.
Who should you join Financial Modeling School?
This program is suitable for people in investment banking, equity research, business planning, strategy, private equity, funds or commercial banking. It is also ideal for people who want a career with any of the above activities.
The program assumes you have basic knowledge of MS Excel. We will teach you various features Excel as part of the course, it is advisable that you know how to use Excel.
What Topics are Covered?
We are limiting the scope of financial modeling to FMCG / Manufacturing sector only. The aim is take you thru 2 case-studies in these industries and help you make an integrated financial model in a step-by-step fashion.
We will cover the following topics in the program.
Financial Modeling School Topics:
Designing an efficient layout
Inputting the historical statements
Analyzing the growth drivers
Forming growth assumptions
Projecting future P&L and B/S
Creating Asset & Dep. Schedule
Creating Debt schedule
Equity & Retained Earnings
Creating Cash Flow statement
Circular loop and Cash updation
Analyzing Ratios
Valuation by DCF
Valuation by Comps
Charting a football field
How does Financial Modeling School Work?
We have prepared a short document explaining the whole process, course contents to you. You can download it here:
Financial Modeling School Course Details & Methodology [PDF]
What do you get when you Join?
20 hours of Financial Modeling Online Training


Each of the 14 topics in this program come with several videos discussing the process of constructing model in excel. There is a total of 20 hours of videos planned. All these lessons are neatly structured in to a lesson plan with links to view, download and discuss. You can follow the lesson plan and boost your modeling skills in a very short period of time.

Example workbooks – both Empty & Completed ones


At each step, we will provide you an example workbook so that you can immediately apply the knowledge gained in the class. You can verify your solution against ours using instructor version of same workbook. This will make your modeling skills rock-solid.
6 month Access to Online Classroom
Online classroom is a blog-like area with secure userid and password for students. This is where you can ask questions related to lesson topics, discuss the lesson content or share your tips / ideas with other students. You can access the classroom for 6 months from data of joining.

Free Bonus – Excel Formula Lessons


For successful modeling, you need to know various excel formulas and their uses. So we have 15 video lessons on various excel formulas for you as a free bonus.

Free Bonus – List of Keyboard Shortcuts PDF


This one page PDF includes some really powerful and useful Excel Keyboard Shortcuts.

Free bonus – Chart Design E-book


In this short 24 page e-book, we explain the process you should follow to format your charts to wow your audience. It also includes guidance on colors to use.

30 Day money back guarantee


Each Financial Modeling School membership comes with a 30 day money back guarantee. If you don't like what you see, just drop me an email and I will refund your money. No questions asked.
Join Financial Modeling School Now
We are sorry, but registrations for first batch of Financial Modeling School are now closed. We are busy teaching Financial Modeling to 105 students in this batch. We will be re-opening registrations in February 2011.
Please leave your name and email id below, so that we can get in touch with you when the registrations open.
How the Purchase Process Works?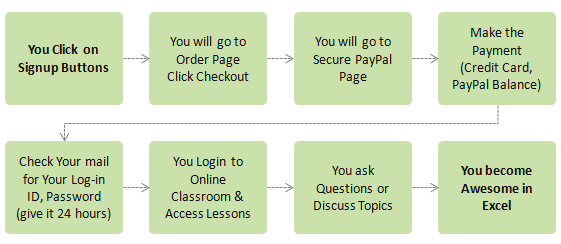 Frequently Asked Questions
I have answered 3 most frequently asked questions here:
What payment methods are accepted?
You can pay by credit card (VISA, Master, AMEX etc.) or with your PayPal Account. In some countries, you can also pay by electronic check. Use the most convenient option from Checkout page.
Should I be online or available at a specific time to enjoy the lessons?
No. You can learn at your convenience.
Can I upgrade to Download option later?
You can upgrade to download option once you sign-up. It costs $77. You will find the details inside Financial Modeling School.
Please check out Financial Modeling School FAQ page for more.
Problems During Signup?
If you have any problem during sign-up process or still have some un-answered questions, write to me at chandoo.d @ gmail.com or call me at +91 814 262 1090 or +1 206 792 9480. I will be very glad to answer your questions.
We hope to see you in Financial Modeling School.