All articles with 'vba classes' Tag
We have a challenge in our VBA class. Many of the students who join our VBA program have no formal programming background. They may have written a few simple programs long time ago, but most of them lack basic understanding of programming. Teaching VBA can be difficult if we do not address this problem.
So, we have added a lesson on "Introduction to Programming". In this lesson, our aim is to introduce programming to non-programers.
Since many of you are considering to join our VBA classes, it is appropriate that we give this introduction to programming lesson as a demo lesson. Please watch it below.
Continue »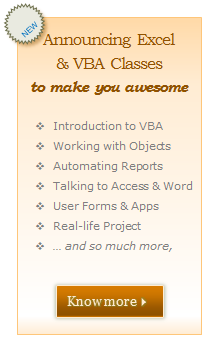 Dear Readers & Friends,
I am very happy to announce that our first batch of VBA Classes is open for your consideration. Please read this short post to understand the benefits of this program and how you can join. Click here to join our class, if you are ready.
What is this VBA Class?
VBA Class is a structured and comprehensive online training program for learning Microsoft Excel VBA (Macros). It is full of real world examples & useful theory.
The aim of VBA Classes is to make a beginner an expert in VBA.
What are the benefits of this class?
Oh so many! Learning VBA one ups your Excel mojo. You will suddenly start saying "Yes" several work opportunities & challenges. Your boss might fall in love with you. You realize the potential to automate large chunks of your work and save time & money.
Continue »
Today, I want to quickly share a few things about the upcoming VBA Classes.
I have been running online training programs since Jan, 2010. I have trained more than 900 students till date. Still, whenever I am launching a new program, I could feel that familiar sense of eagerness, tension and tremendous enthusiasm building up. I feel eager because I want to meet you, teach you and learn from you. I feel tensed because I want to do it right. I feel enthusiastic because these training programs give me a lot of new ideas and open-up new possibilities.
Continue »
Few days ago, I have asked you, Do you want to learn Excel VBA online? and many of you said YES. So we are starting the program, on next Monday – 9th of May.
VBA Classes is a 12 week online training program that will explain various Excel VBA concepts to you in an easy to understand format. Just like Excel School, we will keep this fun, exciting, interactive and useful. We will learn from each other as much as we learn from this course. To help you understand how this course works, we made a small video. You can watch it and get other details about the program in this post.
Continue »