All articles with 'products' Tag
Hi folks,
I have a quick announcement & an awesome Power Pivot technique to share with you. First the announcement.
Only few hours left to join our Power Pivot course…
As you may know, I have opened enrollments for our inaugural batch of Power Pivot course few days ago. The aim of this course is to make you awesome in Excel, Advanced Excel, Dashboards & Power Pivot.
We will be closing the doors of this program at midnight, today (11:59 PM, Pacific time, Friday, 15th of February).
If you want to join us, click here and enroll now.
How many people have joined the class?
At the time of writing this, we have 195 students enrolled in Power Pivot class. We are eager to share Power Pivot knowledge & techniques to as many more of you as possible. So go ahead and join us because you want to be awesome in Excel & Power Pivot.
Continue »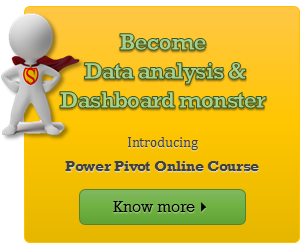 Hello readers & supporters of Chandoo.org,
I am very glad to announce that our newest online class – Power Pivot course is now open for your consideration. In this post, you can understand details about this course & how to join us.
Click here if you are ready to join us. Read below to learn more.
What is Power Pivot course?
These days almost any job requires data analysis & presentation of results. While anyone can put a list of values in Excel & sum them up, not everyone can do advanced analysis, create charts, make them interactive, summarize data intelligently, present output in an intuitive dashboard or slice & dice data using Pivot tables & Power Pivot. Having these vital skills can make you invaluable to your organization & expose you to new opportunities. Not to mention the amount of time, money & effort you can save by efficiently using Excel.
That is why I have created 2 powerful courses – Excel School & Power Pivot Class. Think of these as steps in a ladder.
Continue »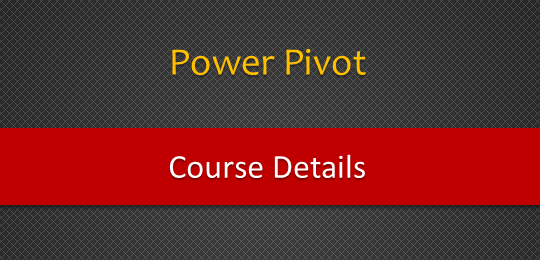 Hello folks,
If this article was a person, they would be schizophrenic. You see, it has 2 purposes:
Give you all the details about my upcoming Power Pivot course
Give you a solution to last week's vacation days problem
Details about Power Pivot Course
Power Pivot, an Excel add-in makes it easy to connect, analyze & visualize massive amounts of data. This course aims to teach you how to use Power Pivot to analyze data, create advanced reports & prepare dashboards all from familiar interface of Excel. This is ideal for data analysts, reporting & MIS professionals, business analysts, managers & dashboard makers.
Continue »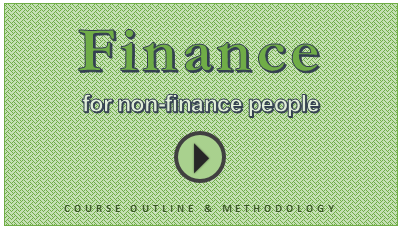 Dear readers & supporters of Chandoo.org,
I am very glad to announce that our brand new online course – "Finance for non-finance people" is now available for your consideration. Please take a few minutes to read this short message to understand what this program is & how it benefits you. If you are ready to join, please click here.
What is Finance for Non-finance people course?
This course aims to teach financial fundamentals & introduce you to the world financial analysis in a no-nonsense way.
We start by introducing financial analysis and the basic jargon. Then we talk about 3 important components of any company's finances – Balance Sheet, Income Statement & Cash flow Statement.
Then we discuss about various analytical techniques like ratio analysis, valuation mechanisms, break-even analysis.
Finally we explain advanced accounting concepts like long-lived assets, depreciation, explore trend analysis and unit economics.
In a nut-shell, this course takes someone with no finance background and makes them proficient in world of finance.
Continue »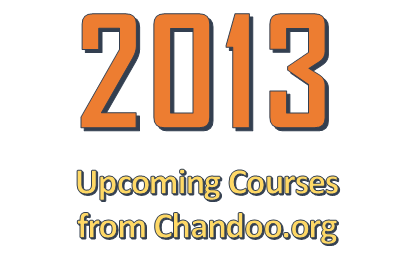 A quick announcement for all of you aiming to become awesome in Excel in 2013.
I am very happy to share our course timeline for first 3 months of 2013.
Upcoming Courses:
Here is a summary of courses I am planning to launch in next 3 months. I will be posting more details about these courses soon.
1. Finance for Non-finance people
Learn about financial basics, financial analysis thru Excel in our finance for non-finance people course. Designed by my partners at Pristine education, this course helps you gain insights to finance world quickly.
This course will be launched Thursday, January 10th – 2013
2. Power Pivot School
Jump in to power pivot, analyze data & extract insights like a pro by going thru this program. Aimed at Excel analysts & reporting professionals, this course helps you unleash power of PowerPivot to do awesome things.
This course will be launched on Wednesday, February 6th – 2013
…
Continue »
Hi Folks,
The moment you are waiting for is here. Our 2012 Holiday SALE is now on.
If you are ready, Just visit Holiday SALE page.
To know more read on…,
What is on sale?
Two of our most popular, awesome & valuable courses are on sale.
Excel School & Dashboards program – Save $30
Excel School, VBA & Dashboards program – Save $50
Our customers from India save Rs 1,200 & Rs 2,000 respectively.
Continue »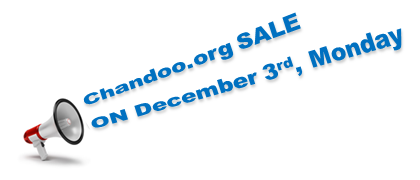 Here is a quick announcement folks!
Many of you asked me whether we are going to have a holiday sale at Chandoo.org this year. Of course we have a sale!

Details of Chandoo.org Holiday Sale – 2012
Dates of the sale – 3rd & 4th December, 2012 (Monday, Tuesday)
What is on sale?
This year, you can save up to $50 on our best selling training courses.
Continue »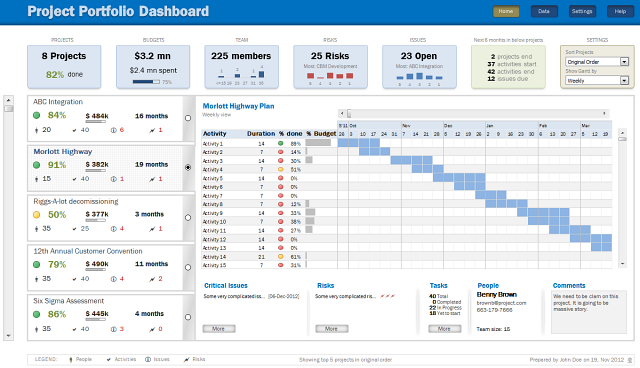 In this 2 part tutorial, we will learn how to design a project portfolio dashboard. Part 1 discussed user needs & design. Part 2 will show you Excel implementation.
Final Implementation – Project Portfolio Dashboard
First lets take a look at the finalized dashboard implementation. Continue reading to learn more & download this dashboard.
Continue »
Behold, here is the official trailer for our Project Portfolio Dashboard, releasing worldwide on 19th November (Monday), 2012.
Continue »
About 10 days ago, I have introduced Vitamin XL – our membership program and asked for your feedback. I got several enthusiastic responses (both for and against it).
I have decided to go ahead and kill this product idea. Please read to understand why.
Continue »

Hello friends, fans & well wishers of Chandoo.org,
I am happy to announce about our new product – Vitamin XL, a membership program for you. I want to make sure that Vitamin XL offers you the best possible features & value. I need your help in designing this product. Please read this short article and give me your feedback.
What is Vitamin XL?
Just like vitamins you give you strength and health, Vitamin XL ups your Excel mojo, gives you new ideas & powers. Here is what I have in mind:
Vitamin XL is a membership program with 3 distinct benefits
Excel Training
Excel Resources
Excel user community
Continue »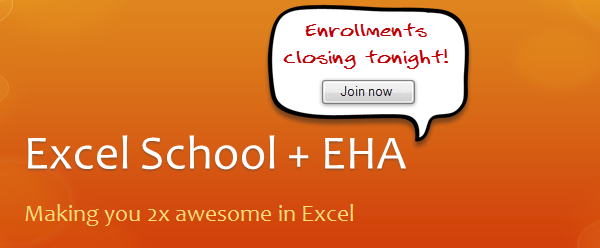 As you may know, I have partnered with Daniel Ferry to offer an irresistible bundle of Excel goodness: Excel School + Excel Hero Academy.
Today is the last day to enroll in this combined program. More than hundred eager & enthusiastic bunch of participants have already joined us. As you read this, there are dozens of people becoming awesome in Excel.
If you have been waiting to enroll, now is the time.
Continue »
Hello friends & Chandoo.org readers,
I am super-excited to announce an my first joint Excel course with none other than Excel Hero – Daniel Ferry. For the the first time, you get basic, intermediate, advanced & super-advanced Excel + VBA course in one neat package.
I am happy to present Excel School + Excel Hero Academy course bundle for your consideration.
What is this course bundle & How it can help you?
Simply put, this course package is designed to make you 2x awesome in Excel, VBA & Dashboards. Please watch below video to understand how our course can help you.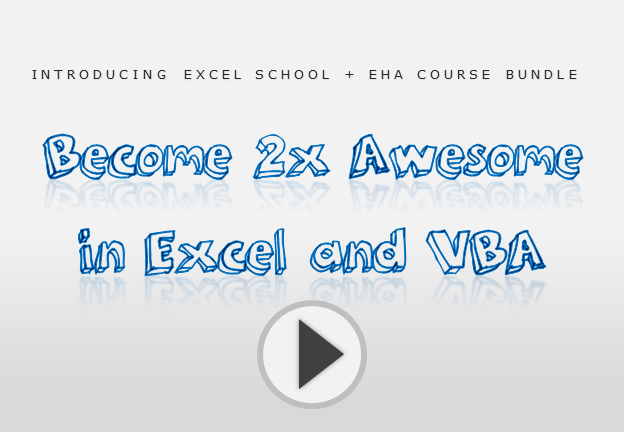 Continue »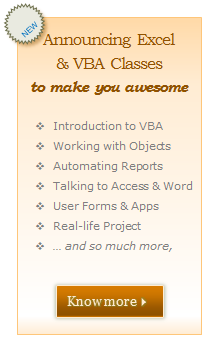 Friends & Readers of Chandoo.org,
I am so happy to tell you that our VBA Classes are now open for your consideration. Click here to know more & join us.
What is this VBA Class?
VBA Class is a structured and comprehensive online training program for learning Microsoft Excel VBA (Macros). It is full of real world examples & useful theory.
The aim of VBA Classes is to make a beginner an expert in VBA.
Read on to understand the benefits of this program & how to sign-up.
Continue »
Some of you know that I run an online Excel training program – Excel School. This program has 24 hours of detailed, step-by-step, fun & very useful Excel training, all available online so that you can view & learn at your own pace.
Creating this program has been the best thing that happened in my life. This program has been received very well by Excel users all over the world. Since we launched in Jan 2010, More than 2,500 people have joined Excel School and have become awesome in Excel. Personally, I have learned so much more about Excel, teaching & running business by conducting this program in last 2 years.
You too can become awesome in Excel by joining us. Please click here.
Continue »