All articles with 'guest posts' Tag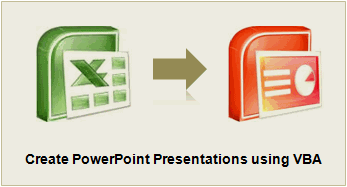 You've been there before. It's almost 5:00, and you are going crazy trying to finish the presentation due for a monthly performance meeting the next morning. The model is refreshed, and now it just takes a LOT of copying, pasting, and positioning to get the PowerPoint ready. Finally, the slides are finished…, until you read a new message from your boss requesting a minor change. But of course her change means you have to start all over with the copy and pastes…
There is always a better way! In the Oil and Gas industry, I constantly have monthly reports to assess the performance of our operating assets. Excel VBA makes it a cinch to automate the entire process. So when a simple change is requested, the presentation is automatically generated with the click of a button. No more wasting time!
Continue »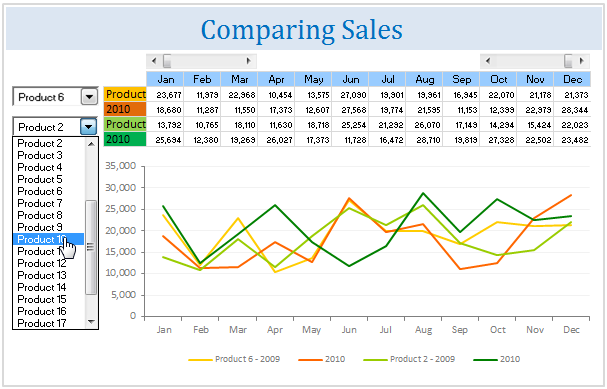 This is a guest article by Theodor on how to Compare Sales of One Product with Another
Ok, now here's one for you.
Suppose you'd like to come up with a sales report on different products, comparing their evolution on the same period of different years (say Jan '09 vs. Jan Jan '10). At the same time, you'd like to keep an eye on their yearly trend (entire 2009 vs. entire 2010).
Read on to learn how you can use Excel Charts to do this very easily.
Continue »
Purpose of the dashboard:
This is a guest article written by John for our Excel Dashboard Week.
This Dashboard was constructed for a number of reasons, one of which was to reduce the number of reports produced with the same data ( up to 6 separate files ). As we all know, when it comes to senior management and reports / files the more information they can get on one report / file the better for them. So, with this in mind I created the Dashboard to show the data they need to see "quickly" each week.
Continue »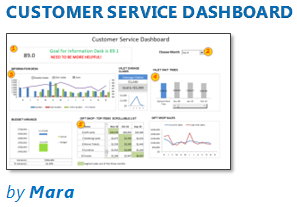 Early in Jan, I got this mail from Mara, a student in Excel School first batch.
Hi Chandoo,
I took your first Excel batch class and loved it. I created a dynamic and interactive dashboard for my work. My boss thinks it's an excellent tool and I have you to thank for and also Francis Chin who shared his travel dynamic dashboard. I integrated things you taught so thanks so much!
I felt very proud reading her email, so I asked her if she can share the dashboard with some dummy data so that we all can learn from her example.
Being a lovely person Mara is, she gladly emailed me the workbook and I am thrilled to include it in Dashboard Week.
Continue »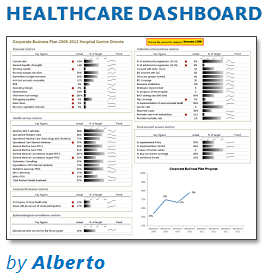 As part of Dashboard Week, in this post, we will take a look at Health-care Dashboard prepared and shared by Alberto. He put together an excellent dashboard to visualize hospital performance and understand what is going on. Read this post to understand how this dashboard is made, watch a tutorial video & download example workbook.
Thank you Alberto for sharing the file & helping us learn.
Continue »
Transferring data regularly between Excel and Word for the production of Word based forms or reports cab be tedious if it involves much more than a few numbers.
This post looks at a technique for automating this process.
Continue »

In the second part of our series on project finance using Excel, Paramdeep tells us how to model "interest during construction" in real estate and construction type of projects. We take a case of hospital construction and learn how to calculate the IDC using circular references.
You can also download both blank and completed model so that you can test the skills.
Continue »
This is a guest post written by Paramdeep from Pristine. Chandoo.org runs Financial Modeling School program in partnership with Pristine Careers. Visit Financial Modeling School to learn more and sign-up for our newsletter.
Greetings!
It's been long time since we interacted on Chandoo.org. Actually I was very busy teaching the 105 awesome students for financial modeling in Excel. We all worked together to create some easy and some complex financial models. I found the journey to be quite exciting and enriching (From the feedback that I got, my students too didn't find it bad either 😉 )
During the interaction, I found that a lot of students were looking for financial modeling around the project financing as well. So we thought why not introduce financial modeling for project finance.
In this post I will speak about some of the key aspects of a project finance model and why it can be different from modeling a normal company.
Continue »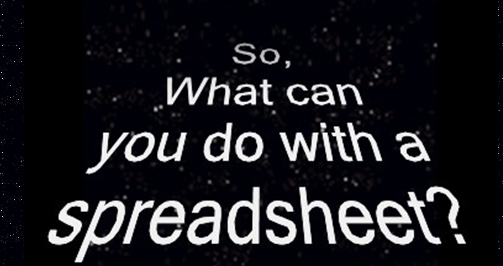 Way back in November, I received this email from Tom, a senior researcher at the Center for Learning Innovation in Australia.
I've been developing & have published spreadsheet applications for teachers for some time now. In particular, I have animations, adventure scenarios etc that can be used to create games for the classroom. I need to promote these so teachers eventually try these and use them. … Perhaps you could post some of these on your site.
What a noble cause, I thought. So I wrote back to him and invited him to share his files along with a guest article. Tom acted quick and emailed me his article and Excel workbooks by Thanksgiving day. I was too lazy and got lost in the flow of things. But now, I am very very glad to feature his work.
There are so many valuable tricks, ideas and powerful concepts buried in his workbook. I encourage everyone to play with his file (you need to enable macros) so that you can learn a thing or two. If you are a teacher, feel free to use the files to make your classroom teaching even more awesome.
Continue »
Theodor, one of our readers, first emailed me in December asking a question. But he also made a promise to share some of his techniques with us thru Guest posts. Naturally, I was too happy and invited him to share a file or two so that I can use them for articles here.
Later during Christmas holidays, he sent me this beautiful Holiday Request Form made using Excel.
Continue »
WordArt is a quick and easy to use tool to allow Excel users to add pizzazz to the presentation of your worksheets.
This is a quick tutorial in the use of WordArt.
Continue »
We have talked a lot about VLOOKUP and other lookup formulas recently during VLOOKUP Week.
In this post I am giving away a free VLOOKUP formula cheat-sheet for our readers. This cheat-sheet is prepared by Cheater John specifically for our readers. I hope you enjoy the one page help on VLOOKUP.
Continue »
Lets keep this quick and short, As some of you may know, There is a mega IPO (initial public offering) going on in India these days. It is for a company called Coal India Ltd. So my partners at Pristine Education thought, it would be cool to build a financial model analyzing the IPO. Click […]
Continue »
If you are building financial models or any other type of excel based decision models, chances are, there will be multiple scenarios in your model. Whenever you have multiple scenarios, you may want an easy, intuitive way to select one of them. In this post, I will present an interesting scenario display & selection technique that I received by email from our reader Itay Maor.
Continue »
This is a guest post written by Paramdeep from Pristine. Chandoo.org is partnering with Pristine to bring an excel financial modeling online training program for you. This is Part 6 of 6 on Financial Modeling using Excel In this tutorial we are going to learn how to build assumptions & input sheets in our excel […]
Continue »