All articles with 'data filters' Tag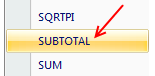 Today we will learn Excel SUBTOTAL formula and 5 beautiful reasons why you should give it a try.
SUBTOTAL formula is used to find out subtotal of a given range of cells. You give SUBTOTAL two things – (1) a range of data (2) type of subtotal. In return, SUBTOTAL will give you the subtotal for that data. Unlike SUM, AVERAGE, COUNT etc. which do one thing and only one thing, SUBTOTAL is versatile. You can use it to sum up, average, count a bunch of cells.
Continue »
Today I want to introduce Excel 2010 to you. Excel 2010 is the latest version of spreadsheet software from Microsoft, set to be released for sale in late 2010. On Nov 18th, MS released the public beta of Excel 2010 [download here] along with other Office productivity software.
Excel 2010 has several improvements compared to earlier version – Excel 2007. In this post, I want to highlight some of the User Interface improvements made in Excel 2010 that are very exciting and fun to use.
Continue »
It is the customer on the phone again, she wants to know what products we have.
How cool would it be if we can send her a spreadsheet with all the products neatly listed in a table and she can use filters to find what she likes. Alas, we end up sending a biggish PDF brochure that is both difficult to make and maintain.
Well, not any more.
Today we will learn a very useful and fun trick in Excel. We will create a product catalog using Excel that you can send to your clients or boss (and impress them).
Continue »
In this edition of Excel Links, we feature a new excel blog on the blog, named bacon bits. We also share links about interesting articles like generating tinyurls using vba, making maps using xy charts, designing filters for your dashboards and more.
Continue »
In this week's excel links, we will learn how to jump to next cell during data entry, an array formula trick to include all values conditionally, about auto-filters in excel and much more.
Continue »
Here is a really fun and simple way to create dynamic charts in Excel. It uses data filters in an innovative way and creates the dynamic effect. To create the dynamic charts, just follow these 5 steps:
(1) Prepare your charts: Make as many charts as you want. Lets say 3.
(2) Set up the area where dynamic charts will be loaded: Just take 3 cells in a row and adjust the row height and column width such that the charts can be fit inside snugly. Also, type the chart names (1 for each cell) in the cell. Let us say, the charts you have are for Costs, Sales and Profits, just type these names in the cells.
Read more…
Continue »
As part of our spreadcheats series, we will learn how you can use data filters to create dynamic charts in Microsoft excel
Continue »
PHD reader and commenter Vishy contributed this post through e-mail. Thank you so much Vishy for this very useful tip. The Problem: You have created a specific view of your data in Excel (say by filtering, zooming out, changing column width, hiding specific rows, customizing window settings, print settings etc.). This is your reference point […]
Continue »
Every Monday PHD shares some of the best excel related articles around the web so that you are up to date with discussions and new ways to be productive. Here is a list of links recommended for this week.
Continue »