After attending the course I am so comfortable with the financial analysis and Business finance. It has increased my contribution to the Business Meetings. Thank you. – Arjun, Business Analyst
What is Finance for Non-finance people course?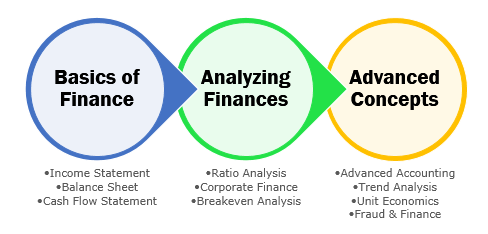 This course aims to teach financial fundamentals & introduce you to the world financial analysis in a no-nonsense way.
We start by introducing financial analysis and the basic jargon. Then we talk about 3 important components of any company's finances – Balance Sheet, Income Statement & Cash flow Statement.
Then we discuss about various analytical techniques like ratio analysis, valuation mechanisms, break-even analysis.
Finally we explain advanced accounting concepts like long-lived assets, depreciation, explore trend analysis and unit economics.
In a nut-shell, this course takes someone with no finance background and makes them proficient in world of finance.
Who should opt for this course?
As the name suggests, this course is for non-finance people who need to learn the language of finance.
We have hand-crafted this course especially for,
New entrants to corporate finance & analyst positions
People with non-finance background
Anyone aspiring to manage or own a business
Professionals in domains like Marketing, IT, HR, Production etc. and looking for senior management positions.
These days, almost any top management position (GM, VP, EVP, CXO levels) require fair amount of cross domain knowledge to make better business decisions. While one can learn marketing, operations, HR or strategy with a fair amount of practice, world of finance continues to be difficult for outsiders. That is where this course comes. It gives you a solid & necessary background to finance domain so that you can reach the next level.
What topics are covered in this?
We have 12 modules in this program, divided in to 3 areas.
Area 1 – Basics of Finance
The focus of Area 1 is to teach you the language of finance.
Module 1 – Need for Financial Analysis
An overview of benefits of financial analysis & situations where it is used. [1 video, 17 minutes]
Module 2,3 & 4 – Understanding Financial Statements
A deep dive in to 3 important financial statements you will find in any business – Income statement, Balance Sheet & Statement of Cash flows. What is the purpose of each and how to structure, understand & analyze them. We use a case study to help you get holistic perspective of these statements. Also, you will learn how to use various Excel techniques to model the same. [15 videos, 3.5 hours]
Module 5 – Complete Business Perspective
Now that you know the basics, time to gain complete perspective of a business by tying together income statement, balance sheet & cashflow & interpreting the messages. [1 video, 27 minutes]
Area 2 – Financial Analysis & Interpretation
The focus of area 2 is to let you explore the numbers in various financial statements & understand how well the company is doing.
Module 6 – Ratio Analysis
Thorough overview of various ratios like – profitability, liquidity, activity, solvency, market ratios and understanding DuPont Analysis. [8 videos, 1.5 hours]
Module 7 – Introduction to Corporate Finance
Understanding how companies view money & make decisions by learning important concepts like time value of money, NPV, IRR, Free cashflows, Dividend discount model, Analysis of multiples.  This is the most detailed and crucial part of our course. [13 videos, 3.5 hours]
Module 8 – Breakeven Analysis
Analyzing breakeven & profitability of a company with help of a case study. Also learn variations of break-even due to taxes, synergies and how to present break-even analysis in a dashboard [6 hours, 1.5 hours]
Area 3 – Advanced Concepts
In this area, the focus is on advanced accounting & analysis concepts.
Module 9 – Advanced Accounting Concepts
Learn about concepts like long lived assets, depreciation, amortization, working capital management. [9 videos, 2 hours]
Module 10 – Trend Analysis
Introduction to basic statistical measures, trend analysis, coefficient of variance etc. [4 videos, 30 minutes]
Module 11 – Unit Economics
Understand how to calculate various metrics (cost, profits, revenues etc.) on per unit basis and see how improving them can impact a company's business. [4 videos, 45 minutes]
Module 12 – Fraud & Finance
After all, the world of finance is just interpretation of numbers. So there is always scope for fraud. Learn how to detect fraud and how to implement checks and balances. Explained with cases of infamous Xerox, Worldcom & Enron. [4 videos, 45 minutes]
The faculty has a lot of knowledge and well-defined skill set to take me from the basics to building a model on my own in a short span of time. – Janet, Finance Head, Soho Group
Benefits for you
When you enroll in this program, you will get the following benefits.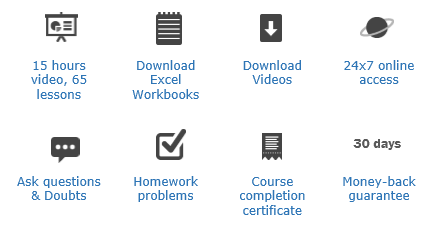 65 video lessons with 15 hours material: Access in-depth content on all aspects of financial analysis right from basics to advanced accounting concepts.
Notes, Excel Files & Documents: Download study & lecture notes, completed & blank Excel workbooks, documents & presentations used in the course and learn better.
Online Access to our classroom: Access our secure online classroom and learn at any time from anywhere.
Download videos: HD quality videos of all lessons can be downloaded for future reference and storage.
Ask questions & doubts: You can ask course related questions, doubts & share your experiences with our faculty any time & get guidance.
Participation Certificate: Get participation certificate and show off your knowledge.
30 day money back guarantee: No questions asked, if you do not enjoy our course, just ask and get your money back.
Join Finance for Non-finance Program
Course fees: $197
Rs. 10,000 for Indian Students

I find the approach and the models very practical to my everyday work. I enjoy the fact that I can work at my own pace. – Jim Moran
Frequently Asked Questions…
1. Should I know a lot of Excel to join this class?
A. No, Just basic Excel knowledge is enough. In this course, we teach all the Excel features you need to know to understand & analyze finances.
2. What payment methods are accepted?
A. You can pay by any credit card or use your PayPal account. If you are in India, you can pay by Debit cards, net banking & credit cards as well.
3. Any discounts for multiple enrollments?
A. We offer 25% discount for  multiple (team) enrollments (3 or more). Just enter the quantity during check out to get the discount automatically.
Any more questions or doubts?
Please get in touch with me at chandoo.d@gmail.com or call me on +91 814 262 1090. You can also contact Paramdeep, our course instructor at paramdeep@edupristine.com to know more about this course and how it can benefit you.
We hope to see you in our Finance for non-finance program.