How the Purchase Process Works?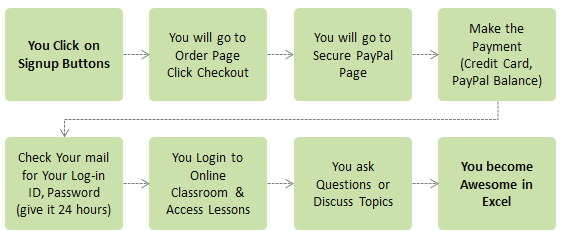 Frequently Asked Questions
I have answered 3 most frequently asked questions here:
What payment methods are accepted?
You can pay by credit card (VISA, Master, AMEX etc.) or with your PayPal Account. In some countries, you can also pay by electronic check. Use the most convenient option from Checkout page.
What version of Excel is used in Excel School?
I use Excel 2007 to conduct the classes in Excel School. However, most lessons can be applied to Excel 2003 onwards.
Can I upgrade to Download option later?
You can upgrade to download option once you sign-up. It costs $57. You will find the details inside Excel School.
Please check out Excel School FAQ page for more.
Problems During Signup?
If you have any problem during signup process or still have some un-answered questions, write to me at chandoo.d @ gmail.com or call me at +91 814 262 1090 or +1 206 792 9480. I will be very glad to answer your questions.
I hope to see you in Excel School.