Excel School is an Online Excel & Dashboard Training Program
Friends, readers of Chandoo.org, I am very glad to announce that Excel School – Online Excel & Dashboard Training Program is now available for your consideration. Please read this short page to understand the benefits of this program and how you can sign-up.
Click here if you want to skip the story and just get in to Excel School.
What is Excel School?
Excel School is structured and comprehensive online training program for learning Microsoft Excel. It is full of real world examples.
The aim of Excel School is to make beginners become productive and awesome in Excel. It has an optional module on Dashboards, which can teach you how to design awesome Excel Dashboards.
Why should you join Excel School?
These days, any managerial or analyst role requires that you work with data. Excel remains one of the most powerful and easy to use tools when it comes to crunching data. Learning Excel in a proper, structured way can not only help you save time, but it will also help you become better at your job and can give you time to focus on things and people that matter.
While we can argue that Excel can be learned by reading help and visiting blogs like Chandoo.org, it also takes good amount of time if you use that method.
Today, there are over 400 articles, tutorials and examples on Chandoo.org explaining almost every aspect of MS Excel. I am sure there are thousands of useful, free and fun articles on learning Excel across Internet. It would take almost 6 months if you read one article a day to master some of the core concepts of Excel. Even then you may not know some important things.
That is why I designed Excel School Program. This is a structured program with 12+1 topics. Each topic contains several videos and downloadable excel files for you to learn the concepts in detail. This is an intense, focused and clearly defined program to help you learn Excel in useful and fun way.
What Topics are Covered in Excel School?
Excel School Topics:
Formulas
Formatting
Conditional Formatting
Basic Charting
Advanced Charting
Excel Tables
Pivot Tables
Data Validation, Filters
Advanced. Formulas
Importing External Data
Shortcuts, Productivity
Basic Form Controls, Macros
Optional: Excel Dashboards – 8 hours video instruction
See Detailed Course Plan & Lesson Topics.
How does Excel School Work?
I have prepared a short document explaining the whole process, course contents to you. You can download it here:
Excel School Course Brochure [PDF]
Also check out Excel School Demo page for to see sample lessons.
What do you get when you Join Excel School?
Excel School Lesson Plan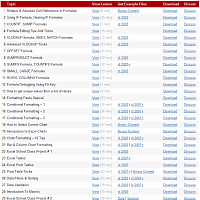 [
view large
]
1,350 minutes excel lessons


Each of the 12 topics in Excel School come with several videos (for eg. we have 15 videos on Formulas) discussing various topics in-detail. There is a total of ~24 hours of video in Excel School at this moment. All these lessons are neatly structured in to a lesson plan with links to view, download and discuss. You can follow the lesson plan and boost your excel skills in a very short period of time.
8 Hour Lessons on Excel DashboardsNEW
In this all new module (optional), you will learn how to build world-class Excel Dashboards from scratch. We will discuss dashboard design principles, best practices, see several examples, build 4 different dashboards. Also, you can download unlocked dashboard excel files and reuse them as you see fit.
45+ example excel workbooks
Almost all the topics in Excel School include downloadable content – either excel files or ppts or pdf files. Using these files, you can easily improve your understanding and play with the concepts right-away.
6 Month Access to Online Classroom
Online classroom is a blog-like area with secure userid and password for students. This is where you can ask questions related to lesson topics, discuss the lesson content or share your tips / ideas with other students. You can access the classroom for 180 days from date of joining.

Free Bonus – Formula Cheat-sheet


If you use Excel Formulas alot, then this cheat sheet can help you. It contains the syntax of most important formulas along with example uses and tricks to handle errors.

Free Bonus – List of Keyboard Shortcuts PDF


This one page PDF includes some really powerful and useful Excel Keyboard Shortcuts.

Free bonus – Chart Design E-book


In this short 24 page e-book, I explain the process you should follow to format your charts to wow your audience. It also includes guidance on colors to use.

30 Day money back guarantee


Each Excel School membership comes with a 30 day money back guarantee. If you don't like what you see in Excel School, just drop me an email and I will refund your money. No questions asked.
Join Excel School Now
| | | | |
| --- | --- | --- | --- |
| What you will get? | | | |
| Download HD Quality Lessons | | 24 Hrs. video | 32 Hrs. video |
| 8 Hours of Dashboard Lessons | | | |
| 3 Interviews with Dashboard Experts | | | |
| 24 Hours of Excel Lessons | | | |
| Example Excel Workbooks | 40 Files | 40 Files | 45 Files |
| 6 Month Access to Online Classroom | | | |
| Free Bonus – Formula Cheat-sheet | | | |
| Free Bonus – Useful Shortcuts PDF | | | |
| Free bonus – Chart Design E-book | | | |
| 30 Day Money Back Guarantee | | | |
| | | | |

More Payment Options – Credit Card, Local Currency, Indian Rupee etc.
If you wish to join Excel School without the hassle of going thru PayPal, you can use the below links to sign-up. Your payments will be processed thru reliable folks at 2Checkout.
How the Purchase Process Works?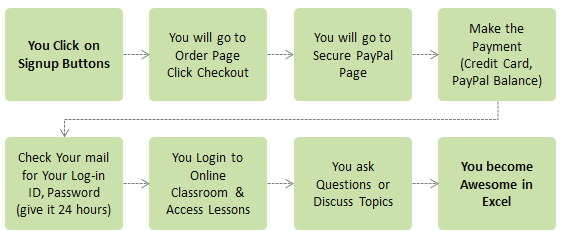 Frequently Asked Questions
I have answered 3 most frequently asked questions here:
What payment methods are accepted?
You can pay by credit card (VISA, Master, AMEX etc.) or with your PayPal Account. In some countries, you can also pay by electronic check. Use the most convenient option from Checkout page.
What version of Excel is used in Excel School?
Excel School works great if you are running Excel 2010 or 2007. If you are running Excel 2003, you can still benefit from a majority of lessons except the ones focusing on latest Excel features like Tables, Sparklines, Improved Conditional Formatting.
Can I upgrade to Download option later?
You can upgrade to download option once you sign-up. It costs $57. You will find the details inside Excel School.
Please check out Excel School FAQ page for more.
Problems During Signup?
If you have any problem during signup process or still have some un-answered questions, write to me at chandoo.d @ gmail.com or call me at +91 814 262 1090 or +1 206 792 9480. I will be very glad to answer your questions.
I hope to see you in Excel School.
Microsoft and the Office logo are trademarks or registered trademarks of Microsoft Corporation in the United States and/or other countries.