All articles in 'Learn Excel' Category
Let's say you have data like this in a spreadsheet. Don't roll your eyes, I am 102% sure, right at this moment, someone is (ab)using Excel to create similar messy data.
How do you reshape it to one column?
You could use formulas, VBA or Power Query. Let's examine all these methods to see what is best. All these methods assume your data is in a range aptly named myrange.
Continue »
I believe in frugal living and paying yourself first. One of the simple ways to achieve this is by using a budget. You know how much money you get. Once you can track (or estimate) how much you are spending, it is easy to see how much you are paying your future self and what wiggle room you have. So in the spirit of making you awesome in life, not just Excel, let me share a simple but elegant household budget spreadsheet.
Here is a screenshot of the budget.
Continue »
VLOOKUP may not make you tall, rich and famous, but learning it can certainly give you wings. It makes you to connect two different tabular lists and saves a ton of time. In my opinion understanding VLOOKUP, INDEX and MATCH worksheet formulas can transform you from normal excel user to a data processing beast. Today, […]
Continue »
Let's start the new year with a bang.
Excel Tables were introduced more than a decade ago, but a lot of people don't know them or under utilize them. So start this year by becoming a very table genius.
What is Excel Table?
Excel tables are a simple and elegant way to structure and store your data. Let's say you have staff details like below. Instead of calling it like A1:E72, you can convert this data in to a table and call it, you guessed it right, covfefe (or more coherent option like – staff).
Continue »
Here is a New year gift to all our readers – free 2018 Excel Calendar & daily planner Template.
This calendar has,
One page full calendar with notes, in 4 different color schemes
Daily event planner & tracker
1 Mini calendar
Monthly calendar (prints to 12 pages)
Works for any year, just change year in Full tab.
Continue »
Time for another round of unconditional love. Today, let's learn about conditional formatting top tips. It is one of the most useful and powerful features in Excel. With just a few clicks of conditional formatting you can add powerful insights to your data. Ready to learn the top tips? Read on.
Continue »
Time for some good, old fashioned VLOOKUP love. Let's say you are writing VLOOKUP()s to get data from an unusually fat table, ie one with heaps of columns. You want to get to lookup ID in first column and get thingamajig in what is that column number. Well, better get counting from 1 and after 19 seconds and lots of squinting you arrive at column number 53 – which has thingamajig. 
If this sounds like your VLOOKUP routine, check out these three amazingly simple tips to save some time and effort with your lookups.
Continue »
Last week, we talked about how to copy and paste visible cells alone (ie exclude any filtered rows or hidden columns etc.) In the comments section many of you suggested two more ways to deal with this annoying problem. Let's take a look them.
Continue »
Here is something annoying with Excel.
Open any Excel file with few columns of data. Hide some of those columns (select the columns and press CTRL+0). Now, copy a few rows of data. Paste it else where. Excel will paste the values in hidden columns too. We thought Excel would omit the values in hidden columns.
What the filter Excel?!? I thought we were friends, but you annoy me with some of these quirks.
Continue »
When faced with tough problems I react in one of three ways
Come up with ingenious solutions
See if a simpler cheat solution is possible
Sit back and ignore
For most problems, I choose 3rd reaction. Occasionally, I rely on 2nd option and very rarely the first one.
When faced with a tricky time sheet summary problem (as outlined above), after initial lethargy I wanted to solve it.
Continue »
Imagine you are head of human resources at Casual Contracting Co. Every month you hire a lot of temporary staff who spend 1-4 months with CCC before leaving. Sometimes you hire the same people again. Of late, you have noticed a strange process gap. You are paying same person two (or more) salaries.
This is because you are hiring a person for new temp role even before their current one ended. See above picture.
So how to avoid making such hiring boo-boos.
Simple, using Excel of course.
Continue »
Excel Tables have been around for a decade now (they are introduced in Excel 2007), and yet, very few people use them. They are versatile, easy and elegant. At Chandoo.org, we celebrate Tables all the time. If you have never used them, start with below tuts.
While tables are super helpful, they do come with some limitations. Today let's examine one such unique problem and learn about an elegant solution.
Continue »
Late. Jayaram, my uncle is also a teacher. When I was a kid, I used to spend a lot of time with him, learning all sorts of things. He taught me chess, maths and so many life lessons. I remember one such lesson very vividly.  One day, he asked me to do something. I did it in a very long way. After seeing me struggle for several minutes, he chipped in and showed me how to do it easily. He then said, "when someone asks you where your nose is, you don't twist arm around your head. You just point to your nose directly."
The idea is that when you have a direct, simple way to do something, you should use it.
Nose and pivot tables… how are they connected?
We are coming to the point. Read on for full case study and solution.
Continue »
The other day, I found myself making copies of a templated report worksheet. After trying the usual route of "right click on source sheet, select move or copy, check create a copy and press OK" a few times, I thought "well that is asinine." So I figured, may be CTRL+Drag will create a copy. And what do you know, it does.
So that is our quick tip for the day. Whenever you need to make a copy of something, simply hold CTRL key and drag the thing.
It works for charts, drawing shapes, worksheets and even ranges.
Continue »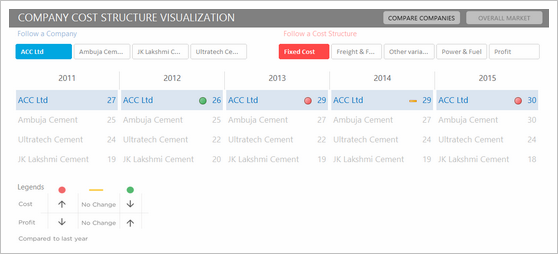 In this amazing guest post, the winner of our 2016 dashboard contest – Chandeep – Explains how he constructed the jaw dropping beauty (shown above) using Excel, creativity, love and sweat. Grab a full cup of coffee (or whatever liquid fancies you) and read on. Take lots of notes and play with the ideas in Excel while reading to maximize your learning.
Thanks Chandeep.
Continue »