CP022: What's a Macro? Introduction to Excel VBA, Macros & Automation
In the 22nd session of Chandoo.org podcast, lets do some macros.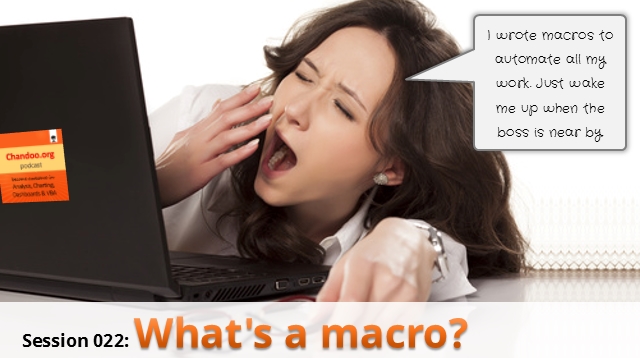 What is in this session?
VBA (or macros, automation) is a mystery for many of us. So in this podcast, lets unravel the mystery behind it and get you started with the awesome world of automation.
In this podcast, you will learn,
What is a macro?
What is VBA then?
Reasons for using VBA Macros

Automation
Extending Excel's capabilities
Efficiency
Applications

How to get started with VBA Macros?
Using Recorder
Example Macro
Going beyond recorder – Learning VBA
Listen to this session
Podcast: Play in new window | Download
Subscribe: Apple Podcasts | Android | RSS
Links & Resources for learning VBA Macros:
Getting started with VBA Macros – FREE 5 part crash course
More tips, information, tutorials & resources on VBA.
VBA Example Macros
VBA Video tutorials
Books for learning VBA
Recommended training program
Learn from basics to advanced VBA in a self-paced, on-demand online training from me. With more than 24 hrs of video training material, 50 lessons, 50 example macro workbooks, home work exercises, 2 class projects and an online community, you can quickly learn ways to automate your work & save time.
Please click here to know more about this program.
Transcript of this session:
Download this podcast transcript [PDF].
Are you new to VBA? What is stopping you from learning it?
When I first heard about VBA, I was not very interested (as explained in the podcast). But later when I got a job, I realized the potential of VBA and quickly embraced it.
What about you? Are you a VBA newbie? What is stopping you from learning it? Please share your fears and difficulties in the comments so that I can help you.
Introducing our Online Power BI Class:
Would you like to join me on a date with Power BI? In this comprehensive online class, learn all about Power BI so you can create beautiful, insightful & interactive reports. Join me and rest of the play mates for our first ever Power BI Play Date.
Click here to know more and join us.