CP009: Averages are Mean – Know these things before you make any more AVERAGE()s
In the 9th session of Chandoo.org podcast, lets raise above AVERAGEs.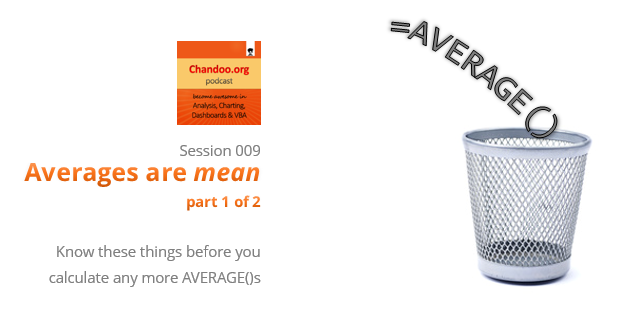 What is in this session?
At this exact time, one in every 3 analysts in the world are calculating an AVERAGE().  – Someone
AVERAGEs are a very popular and universal way to summarize data. But do you know they are mean? Mean as in, AVERAGEs do not reveal much about your data or business. In episode 9 of Chandoo.org podcast, we tackle this problem and present solutions.
In this podcast, you will learn,
What is AVERAGE?
Pitfalls of averages
5 statistic concepts you must understand

Standard Deviation
Median
Quartiles
Outliers
Distribution of data

What next?
NOTE: This is a 2 part podcast. 2nd part will be published next week.
Go ahead and listen to the show
Podcast: Play in new window | Download
Links & Resources mentioned in this session:
Average Formula – Syntax, examples
Explanation of Standard Deviation
Statistics & Probability for analyst – a guide
Transcript of this session:
Download this podcast transcript [PDF].
Do you use AVERAGEs for your analysis? What do you think about them?
AVERAGE is such an easy and convenient thing that we use it often. For many of my reports I start with AVERAGE and then improve the metrics to show insights.
What about you? Do you calculate AVERAGE() for your reports? What other types of statistics you use to summarize data? Where do you find AVERAGE to be useful (or useless)? Please share your thoughts using comments.

Subscribe to Chandoo.org Podcast
Do you know that you can subscribe and receive latest episodes of our podcast right to your ears? Use one of the below links to get started.