Creating an Agenda template in Excel
Posted on January 4th, 2013 in
Templates
- 12 comments
When planning a meeting, an event or activity, we deal with many individual steps (each taking certain amount of time). Today let us understand how to create an agenda template in Excel using simple formulas.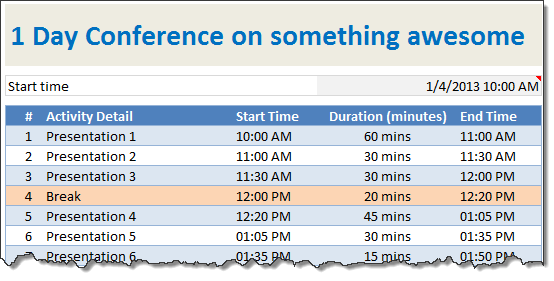 Setting up Agenda Template
In a blank workbook, set up a structure like this: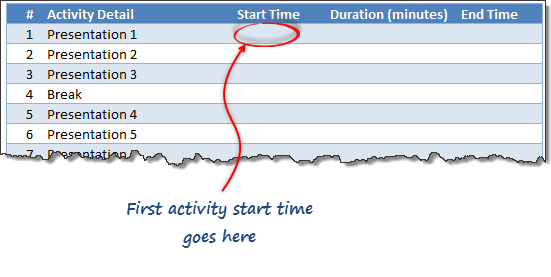 Then,
Enter the start time of the first activity.
In fill up durations for all activities in minutes.
End time = start time + minutes
So the formula for end time cell is

=start-time + duration-minutes / 24 / 60

.

Note:

We need to divide by 24 & 60 because in Excel each day 1 number, each hour is 1/24

th

and each minute is 1/24/60

th

. [

learn more about Excel dates

]

The start time for subsequent activities is equal to end time of previous activity.
Fill down the formulas and your agenda template is ready!
Download Excel Agenda Template
Click here to download Agenda template and use it for planning next big, awesome event 🙂
It contains a ready to use agenda template with built in formulas. The template also highlights any activities marked as break in different color using conditional formatting.
More templates for you
If you like this agenda template, you are going to love these other templates too.
This template is inspired from a question emailed by Renuka, one of our readers.