Last chance to sign-up for my Australian Excel Masterclass [Reminder]
Hi readers,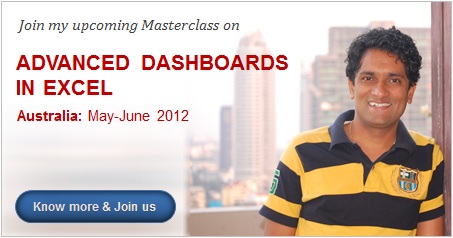 Just a quick reminder. We are closing early-bird discount for my Australian Excel & Dashboards Masterclass on 16th April. So if you want to attend my training program in Sydney, Melbourne or Brisbane, you have very little time left to sign-up.
Click here to sign-up for Advanced Excel & Dashboards Masterclass.
In USA ? Consider attending Excel Power Analyst Bootcamp
My friends & fellow Excel MVPs Mike Alexander & Dick Kusleika are running their annual Excel Analyst boot-camp in Omaha on May 22 & 23.  So if you live near by and make a living out of Excel, consider joining the bacon eater & Dick. They are fun, they love to share & help you.
Click here to know more about the Excel Power Analyst Bootcamp.
Not interested in these classes?
Well, here is a treat for you. Check out the preparatory material I have created for my Masterclass attendees. You can learn all Excel basics. And if you want to learn more, consider enrolling my Excel School program.
I wish you a good weekend
Introducing our Online Power BI Class:
Would you like to join me on a date with Power BI? In this comprehensive online class, learn all about Power BI so you can create beautiful, insightful & interactive reports. Join me and rest of the play mates for our first ever Power BI Play Date.
Click here to know more and join us.