Winner of Excel Expense Tracker Contest – RomeoG
Posted on August 10th, 2010 in
blogging
- 14 comments
Remember the excel expense tracker contest we did when our little blog hit 10,000 RSS Subs? Well, the results are out, and the winner is RomeoG. His (or her?) workbook (shown below) received 31 votes. RomeoG will receive the Toshiba net-book (this one).
Thanks everyone for participating & voting.
You can see the winning entry below:
Excel Personal Expense Tracker by Romeog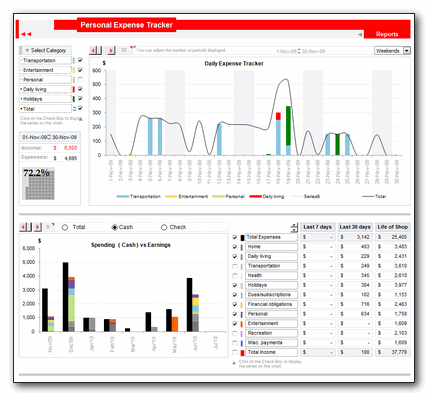 My comments:
Looks awesome, the expense dashboard is quite versatile with ability to view expense data for any month, any number of days etc.
Easy to compare categories and choose which categories to include in output
Simple data entry sheet
Browse all the 7 entries:
Excel Personal Expense Trackers.