Featured Visualizations – Jan 02
Every week Pointy Haired Dilbert celebrates visualization and info-graphics by showcasing some of the creative and fun charting work from around the web. Have inspiration and fun. Browse hundreds of fun visualization and graphics projects in archives.
New way to browse news as tree map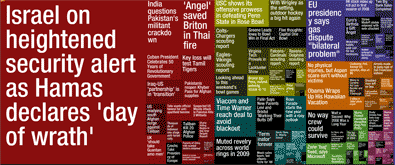 Newsmap is a creative and fun way to look at news. They organize news items on a tree map based on recency and relevancy of the news items (that are probably pulled from Google news). The background color indicates the news topic (red for world, purple for business, green for tech etc.)
Beautiful Time line of Apple Mac in the last 25 years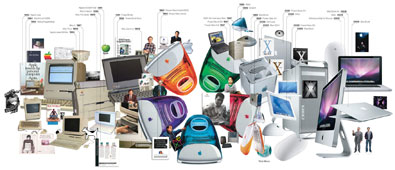 Wired Magazine celebrates 25 years of Mac by making this beautiful timeline piling all the Macs and other gorgeous gadgets Apple made over the last quarter century and loosely arranging them in a time line fashion. You can clearly see how they have migrated from dirtyish beige color to supercool white and blacks over the last few decades. [via Cool Infographics]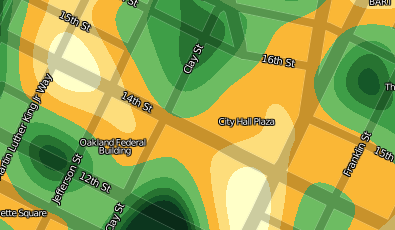 Heat maps are a popular way to explore geographical data. Oakland Crime maps article (linked above) provides insights in to creating heatmaps using geographical data.
US Elections – Understanding the Swing Vote
Remember Robert Kosera's charts to understand Swing States and how they voted over the last several elections ? Well, Pedro took the same data and presented it in a different way, pretty innovative I must say. [via Simple Complexity]
We spend lots of time to create charts and graphs to make sure they don't look like accidents. But there is whole another class of maps that are created by accident. You can see a map of Australia in the above puddle. Follow the link for more eye candy at Strange Maps
Happy weekend 🙂