A new press to publish PHD Blog!!!
Posted on February 3rd, 2006 in
Random
- 0 comments
FLASH *** FLASH *** FLASH
A sting operation by our highly inquisitive and talented team in Hanuman Tekri revealed that the famous B-school blog (:P) Pointy Haired Dilbert may be published from a new press in the days to come. Various cms/blogging software companies are believed to have approached the author in the hopes of making their software the chosen one. As the things stand now the situation in C-320, the official underground head quarters of PHD is very much tensed up.
Our correspondent, "bumblebee blogger" has interviewed a passionate reader (who wanted his identity to be secret) of PHD, excerpts: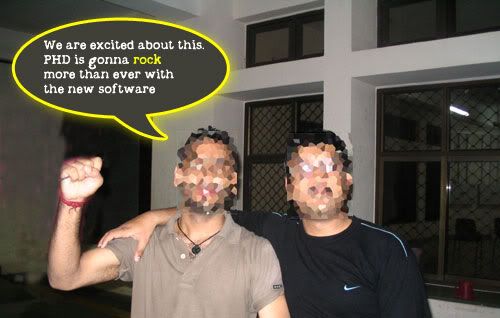 Corres: How do you feel about the possible change in PHD?
Reader: As long as the content flows in and the url remains the same, I think PHD can go for a better blogging software.
When further enquired about the exact date of change, the authorities have denied to divulge the information. But the official blogbet members of the iim indore told us that it may be before this sunday.