Midterms over. Now what?
Posted on February 24th, 2005 in
Random
- 0 comments
Almost. Except for Operations Management II all other mids are over. Due to a small accident the OM mid is rescheduled. To make life more exciting post midterm i am planning to,
– Complete Barbarians at the Gate The Fall of RJR Nabisco, Absolut Biography of a Bottle and ofcourse Life of Pi
– Listen to more of Pink Floyd. Started with Division Bell and that too with "coming back to life". Such a great vocals and touching lyrics. I am instantly in love with this music.
– Restarted playing Mahjong.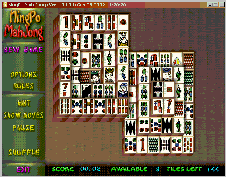 – Complete Friends Series 1, 3, and 5 before leaving this place. Actually more than that is possible. But dont want to overload myself :P.
– Follow Pixar Blog. Nice read. Especially if you are an animation buff like me.
– And ofcourse, still try to do decently in acads. Hopefully decently is not D.
Tada!