The legend passes away
Posted on December 12th, 2004 in
Random
- 0 comments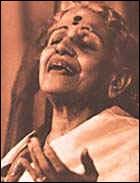 http://www.rediff.com/news/2004/dec/11ms1.htm
Read this news just now. Wat a sad news 🙁
"The vocalist died peacefully in her sleep," Dr C V Krishnaswamy, who treated her at the St Isabel hospital, told PTI.

I am a very great fan of her. Especially Bhaja Govindam and Vishnu Sahasranamam. I used to listen to these bhajans during my stay in vizag. It is the way i started my day for almost 15months.
Before coming to iim-i i have removed all the files on my hdd and lost the bhajans. After coming here i have asked jaani to send the cds from vizag. It is another story that the courier was lost in transit. Such a great voice.
Lets pray that her great soul rests in peace.
Tada!