All articles with 'macros' Tag
You've been there before. It's almost 5:00, and you are going crazy trying to finish the presentation due for a monthly performance meeting the next morning. The model is refreshed, and now it just takes a LOT of copying, pasting, and positioning to get the PowerPoint ready. Finally, the slides are finished…, until you read a new message from your boss requesting a minor change. But of course her change means you have to start all over with the copy and pastes…
There is always a better way! In the Oil and Gas industry, I constantly have monthly reports to assess the performance of our operating assets. Excel VBA makes it a cinch to automate the entire process. So when a simple change is requested, the presentation is automatically generated with the click of a button. No more wasting time!
Continue »
Few days ago, we published an article on how to create interactive dashboards using hyperlinks. Many of you loved this tutorial. But quite a few of you also said, this tutorial is a bit complex to follow.
So, I made a short video explaining how the UDF and interactive hyperlinks work and how our dashboard is weaved together.
Continue »
Last week we learned how to create dynamic hyperlinks in Excel. Today, I want to show you something even cooler. An interactive dashboard based on hyperlinks, like shown above.
Isn't it impressive?
Well, to create something like this, you don't need a degree in advanced cryogenics. You just need a bunch of data, a chart, a one line macro code and some pixie dust (go easy on pixie dust).
Continue »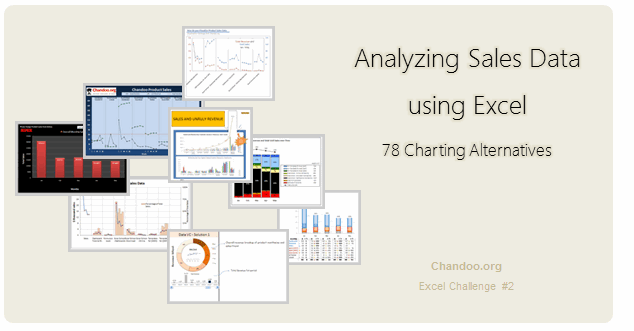 Recently, I ran a contest asking you to analyze a bunch of sales data and present your results in charts. We received a total of 78 charts from 45 people. The contest entries had a mind-boggling variety of excel charts, techniques and ideas. It took me a while to go thru all the files and compile the results. Thanks for your patience. In this post, you can find all the charts along with my comments & links to download files.
Continue »
I have a quick announcement for you.
Registrations for our VBA Class will be closing in a few hours
As you may know, we have opened registrations for our first batch of Online VBA classes on May 9th. This program is aimed at beginners & intermediate level VBA users. The aim of this course is to make you awesome in VBA. We will be closing registrations for this program in few more hours (exactly at 11:59 PM, Pacific time, on 20th May 2011)
Click here to join our VBA Class now.
Continue »
Here is a cool count-down timer application made in VBA to remind you about our VBAClasses registration closing time!
Read the rest of this post to learn how this particular app is built.
If you want to learn VBA, then click here to join our class.
Continue »
We have a challenge in our VBA class. Many of the students who join our VBA program have no formal programming background. They may have written a few simple programs long time ago, but most of them lack basic understanding of programming. Teaching VBA can be difficult if we do not address this problem.
So, we have added a lesson on "Introduction to Programming". In this lesson, our aim is to introduce programming to non-programers.
Since many of you are considering to join our VBA classes, it is appropriate that we give this introduction to programming lesson as a demo lesson. Please watch it below.
Continue »
Dear Readers & Friends,
I am very happy to announce that our first batch of VBA Classes is open for your consideration. Please read this short post to understand the benefits of this program and how you can join. Click here to join our class, if you are ready.
What is this VBA Class?
VBA Class is a structured and comprehensive online training program for learning Microsoft Excel VBA (Macros). It is full of real world examples & useful theory.
The aim of VBA Classes is to make a beginner an expert in VBA.
What are the benefits of this class?
Oh so many! Learning VBA one ups your Excel mojo. You will suddenly start saying "Yes" several work opportunities & challenges. Your boss might fall in love with you. You realize the potential to automate large chunks of your work and save time & money.
Continue »
Today, I want to quickly share a few things about the upcoming VBA Classes.
I have been running online training programs since Jan, 2010. I have trained more than 900 students till date. Still, whenever I am launching a new program, I could feel that familiar sense of eagerness, tension and tremendous enthusiasm building up. I feel eager because I want to meet you, teach you and learn from you. I feel tensed because I want to do it right. I feel enthusiastic because these training programs give me a lot of new ideas and open-up new possibilities.
Continue »
Few days ago, I have asked you, Do you want to learn Excel VBA online? and many of you said YES. So we are starting the program, on next Monday – 9th of May.
VBA Classes is a 12 week online training program that will explain various Excel VBA concepts to you in an easy to understand format. Just like Excel School, we will keep this fun, exciting, interactive and useful. We will learn from each other as much as we learn from this course. To help you understand how this course works, we made a small video. You can watch it and get other details about the program in this post.
Continue »
Last week, we have learned what Pivot Table Report Filters are & how to use them.
Today, I am going to show, how you can use simple macro code to change the report filter value dynamically.
We will learn how to create the chart shown here.
Continue »

Many of you have emailed and asked me, "Chandoo, can you help us learn VBA too? Just like you do with Excel."
Well, as flattering as those requests were, the fact is, I was lousy at VBA. Well, I used to be very good at Visual Basic, back in the college days. But my programming skills have rusted over the years as I did very little coding. I guess, I have become a business-guy. So it took me time to re-learn VBA. And now, I am happy to announce that We are ready to start our very first batch of VBA Class.
But, before we start, I need some help from you. I want to know what is it that you want to learn, so that we can design the course curriculum & methodology around your needs.
So please take a few minutes and complete this survey:
Continue »
I know I am late to the party, but better late than…, uh! forget it.
As the keen readers of our blog knew, I like cricket and I show my enthusiasm by making an excel dashboard (or info-graphic) whenever Indian team reaches a major milestone. So naturally, I was super excited when we won the ICC World cup 2011. Last time Indian won the event was in 1983 and my idea of a dashboard at that time was a bottle of milk and jingo-bell, my favorite shake-to-make-annoying-noise toy. I think our latest world-cup victory deserves something more than that. So here we go.
Continue »
Yesterday, we have seen a beautiful example of how showing details (like distribution) on-demand can increase the effectiveness of your reports. Today, we will learn how to do the same in Excel.
Continue »
Last Friday, we have learned about an interesting formula – IFERROR Formula using which you can easily handle errors in Excel workbooks.
Quite a few people reading that page asked, "Wow, this is good. But how can I take a sheet full of =IF(ISERROR(…)….) formulas and convert them to =IFERROR()"
There is a different set of folks who asked "Wow, this is good. But quite a few of my colleagues use Excel 2003 and they see a bunch of #NAME errors when I send them an excel workbook with IFERROR formulas. Any help?!?"
I am pleased to announce that I wrote 2 simple macros, iferror2iserror() and iserror2iferror() that would scan formulas in a bunch of selected cells and convert them from IFERROR to ISERROR and vice-a-versa.
Continue »