All articles with 'Learn Excel' Tag
Checking if a value falls between 2 other values is fairly common when you are working with data. In today's quick tip, we are going to learn how to check for such between conditions in excel. You will be learning how to check if a value, date or text falls between 2 other values, dates or texts (when arranged in dictionary order) as shown in the picture aside.
Continue »
Here is an interesting use of Excel. Use it to design User Interface Prototypes. A UI Prototype is one of the steps we do while developing systems. It contains a clear and detailed user interface mocked up so that we can clearly find-out how end-users would react to such a system. Now, there are a […]
Continue »
PS: Today is the last day for joining excel school. So bear the promotional messages. Skip this post if you are already sold or not going to buy.
I gave free excel school passes to few of the people I respect and learn from. You see, I have worked mostly alone on Excel School and while the first batch students were very happy with what they got in the school, I wanted to be doubly sure that Excel School is an excellent value for money and nothing short of an awesome program. So I gave free passes to people I truly admire, to know what they would think.
Read this short post to find out what they think about Excel School.
Continue »
As you may know, I run an online excel training program, called as, Excel School. I have opened registrations for 2nd batch of this program on last Monday. Thank you very much for supporting this program wildly. In a few hours, I will be closing the registrations for Excel School.
Click here to sign up for Excel School
At the time of writing this post (around 9 AM IST on 21st), we have 103 students signed up for Excel School. This is certainly a bit more than what I expected. But, I am also confident and eager to help as many of you as possible. So go ahead and join the program, because, you want to be awesome.
Continue »
Comparison of lists of data is something that we do all the time. Today, lets learn a few tricks that you can apply immediately to compare 2 lists using Excel. We will learn how to compare 2 lists of data in 3 + 1 different ways. (click on links to jump to that section of […]
Continue »
Excel School 2nd edition seems to be rocking already. Here is a quick update: So far 50 students have signed up for Excel School. The classroom is busy too. We have 40 comments so far and some interesting questions from new students. Excel School Review by Debra: I gave a free student account to Debra […]
Continue »
Like most of the small businesses, I too use Excel for running various activities including preparing quotations, estimates and pricing models. In this post you can find a couple excel quotation templates that you can immediately use.
The first template is useful for sending quotations for one time work or services.
The second template is useful for sending quotations for hourly work like repairs, services, consulting.
Go ahead and download these excel quote templates to prepare beautiful quotations right from your favorite program.
Continue »
Learn how to calculate weighted averages in excel using formulas. In this article we will learn what a weighted average is and how to Excel's SUMPRODUCT formula to calculate weighted average / weighted mean.
What is weighted average?
Wikipedia defines weighted average as, "The weighted mean is similar to an arithmetic mean …, where instead of each of the data points contributing equally to the final average, some data points contribute more than others."
Calculating weighted averages in excel is not straight forward as there is no built-in formula. But we can use SUMPRODUCT formula to easily calculate them. Read on to find out how.
Continue »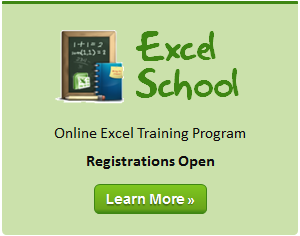 Folks… I have an exciting news.
Excel School 2nd batch is now officially open.
If you want to know more about the program and join, head over the Excel School page.
In this post, you can find some information about Excel School and links to sign-up for the program. Read on, if you want to be even more awesome in Excel.
Continue »
Today FIFA World-cup 2010 is beginning. For the next 30 days or so, no matter where you go, you are bound to hear about soccer, world cup, teams, points, goals and what not. As a tribute to this beautiful and lovely sport, I want to showcase some really awesome excel spreadsheets that are designed to […]
Continue »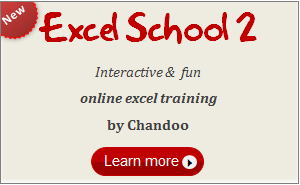 As most of you would know, I am re-opening Excel School Online Excel Training Program on June 14th. That means, I am very busy doing behind the scenes work so that new students get best possible excel learning experience when they come rushing next week. (That is why you are seeing less no. of posts on Chandoo.org this week).
But I have few last minute surprises for you. Just read on if you are interested to learn excel and become even more awesome.
Continue »
While I was working Denmark, there is one thing I noticed. Danes are one hell of football lovers. The football (soccer) enthusiasm is over the top when there is a match between Denmark and Sweden. A common practice in many offices is a football pool. This is how it works: When there is a match […]
Continue »
Ok, so you have written a shiny new macro to solve all the problems. The macro, solveWorldProblemsAndMakeSomeCoffee() sits nicely in your personalmacros.xlam file somewhere in C drive. You have also installed the macro as an add-in so that it is always available. But wait!!! How do you run your sWPAMSC everyday in the morning? (ok, […]
Continue »
The other day, while doing consulting for one of my customers, I had a strange problem. My customer has data for several KPIs and she wants to display average of top 5 values in the dashboard. Now, if she wants average of all values, we can use AVERAGE() formula if she wants top 5 values […]
Continue »
Have you ever wanted to fetch live stock quotes from excel? In this post we will learn about how to get stock quotes for specified symbols using macros. We use Yahoo! Finance API to fetch the stock quotes and other information related to a company using excel macros. Along the way, we will also learn various interesting things about Excel VBA. Think of this post as a crash course in VBA.
This is a guest post by Daniel Ferry.
Continue »