All articles with 'Learn Excel' Tag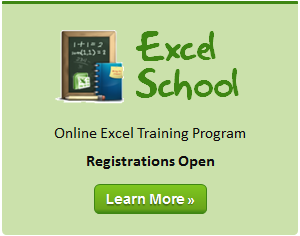 Folks… I have an exciting news.
Excel School 2nd batch is now officially open.
If you want to know more about the program and join, head over the Excel School page.
In this post, you can find some information about Excel School and links to sign-up for the program. Read on, if you want to be even more awesome in Excel.
Continue »
Today FIFA World-cup 2010 is beginning. For the next 30 days or so, no matter where you go, you are bound to hear about soccer, world cup, teams, points, goals and what not. As a tribute to this beautiful and lovely sport, I want to showcase some really awesome excel spreadsheets that are designed to […]
Continue »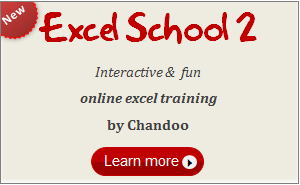 As most of you would know, I am re-opening Excel School Online Excel Training Program on June 14th. That means, I am very busy doing behind the scenes work so that new students get best possible excel learning experience when they come rushing next week. (That is why you are seeing less no. of posts on Chandoo.org this week).
But I have few last minute surprises for you. Just read on if you are interested to learn excel and become even more awesome.
Continue »
While I was working Denmark, there is one thing I noticed. Danes are one hell of football lovers. The football (soccer) enthusiasm is over the top when there is a match between Denmark and Sweden. A common practice in many offices is a football pool. This is how it works: When there is a match […]
Continue »
Ok, so you have written a shiny new macro to solve all the problems. The macro, solveWorldProblemsAndMakeSomeCoffee() sits nicely in your personalmacros.xlam file somewhere in C drive. You have also installed the macro as an add-in so that it is always available. But wait!!! How do you run your sWPAMSC everyday in the morning? (ok, […]
Continue »
The other day, while doing consulting for one of my customers, I had a strange problem. My customer has data for several KPIs and she wants to display average of top 5 values in the dashboard. Now, if she wants average of all values, we can use AVERAGE() formula if she wants top 5 values […]
Continue »
Have you ever wanted to fetch live stock quotes from excel? In this post we will learn about how to get stock quotes for specified symbols using macros. We use Yahoo! Finance API to fetch the stock quotes and other information related to a company using excel macros. Along the way, we will also learn various interesting things about Excel VBA. Think of this post as a crash course in VBA.
This is a guest post by Daniel Ferry.
Continue »
While preparing a project plan, I had a strange problem. I wanted to highlight all the project tasks that fall with-in a certain date range. At the lowest level, the problem is like this: There are 2 ranges of dates (a,b) and (x,y) and I want to know if they overlap (ie at least one […]
Continue »
The FIFA World-cup 2010 edition is around the corner. Like millions of people around the world, I too am an ardent fan of football. (although, I have played only one game of soccer in which I waited near opponents goal post as I was too lazy to run around. And when my team mates kicked […]
Continue »
When I published the comprehensive list of excel shortcuts few weeks back, I thought I had them all. Boy, I was wrong. I am pleasantly surprised to find a new shortcut, one that takes away my manic mouse scrolling in one feel swoop. Often, when I am working with large tables of data, I scroll […]
Continue »
In the last installment of our dynamic dashboard tutorial, we will take all that we have learned in first 3 parts and combine that to create a final dashboard. We are going to use concepts like table of contents, macros and data validation to help us get ahead. You can find the entire macro and downloadable workbook inside the post. Read on…
Continue »
Dashboards can be overwhelming with lots of details and context. A simple way to drag user's attention to important stuff in the dashboard is to use alerts. See this example to understand what alerts mean. How to display alerts in Excel Dashboards? The easiest way to display alerts is to use Excel 2007′s Conditional Formatting […]
Continue »
Today, I want to introduce an excel hero to you. He may not be wearing red cape or carrying latest ninja weaponry with him. But he is a hero. He can arm twist toughest sets of data to create beautiful (almost art like) charts or animations. He can a complex vba model and make it […]
Continue »
In the last installment of excel 2010 features, we will explore the backstage view (or file menu) in Excel 2010.
Background on Backstage view:
Most of the windows based applications have a File menu. This is the usual place you go to create, open, save, save as, print and close. In Office 2007, Microsoft ditched menu based navigation and introduced Ribbon. They moved all the formatting, pivot, charting, formula, print etc. options to various individual ribbon tabs. But they couldn't move the functionality of File menu to a separate ribbon. Instead, they moved all this functionality to Office button – a clone of file menu.
Continue »
Fantastic news folks… As part of Office 2010 launch, Microsoft India is arranging a virtual launch event on May 25th and 26th. There are a ton of cool sessions on various Office products. I will be presenting on "Sparklines and Conditional Formatting" On May 25th between 3:30 – 5 PM IST (we are GMT + […]
Continue »