All articles with 'Learn Excel' Tag
Do you ever think about questions like this?
1) What is the maximum profit we can make?
2) What is the best way to schedule employees in shifts?
3) What the best combination of tasks we can finish in a given time?
You might have heard about Excel Solver tool while trying to find solutions to questions above. If you have never used Solver or have little idea about it, then this post and video are for you.
Continue »
Financial modeling is a no catwalk. You can not look pretty, wear ridiculous outfits and expect to find if a project is worth investing money in. That is why I am very happy to announce Financial Modeling School.
Please read this short post to learn more about the program.
Continue »
Often, we need to input special symbols like €£¥©½» in to our Excel sheets. Now, how do we do that? Simple, you can use Insert > Symbol to add several different kinds of symbols. See this animation to understand how you can add symbols to an excel cell. (the file is kind of big, so […]
Continue »
Excel Array Formulas have subtle beauty and raw power. Today I want to share how you can use Excel Array Formulas to find-out the 2nd largest sale amount corresponding to a particular product.
Lets say you have sales data like this:
Now, we all know that, to get 2nd largest sale amount, we can use the LARGE() formula. Like this: =LARGE(RANGE,2)
But, how do we know what is the 2nd largest sale amount for the product "bricks"?
Continue »
I have a happy news to share with you!!! For the first time since starting this website, we got 500,000 + page views in the month of September 2010. Half-a-million! Thank you so much. To put this in context, in Sept 2009, we got 245,000 views. Traffic grew by more than 100% in last 12 […]
Continue »
As some of you know, I run an online Excel Training Program called as Excel School. I have opened registrations for 3rd batch of this program on September 14th. Thank you very much for supporting this program wildly. In a few hours, I will be closing the registrations for Excel School.
Click here to sign up for Excel School
Read the rest of the post to learn more about Excel School and also download time across world chart template.
Continue »
Here is a quick home work on excel conditional formatting. Lets say you have data as shown below to left and you need to show zebra lines whenever the value changes (see right). Your home work is simple. Just figure out how to write conditional formatting rules to add zebra lines. The data set is […]
Continue »
Removing duplicate data is like morning coffee for us, data analysts. Our day must start with it. It is no wonder that I have written extensively about it (here: 1, 2, 3, 4, 5, 6, 7, 8). But today I want to show you a technique I have been using to dynamically extract and sort […]
Continue »
If you are building financial models or any other type of excel based decision models, chances are, there will be multiple scenarios in your model. Whenever you have multiple scenarios, you may want an easy, intuitive way to select one of them. In this post, I will present an interesting scenario display & selection technique that I received by email from our reader Itay Maor.
Continue »
Some of you know that I run an online excel training program called Excel School. If you want to join, click here. Only 8 days left.
I run excel school mainly to meet new students, understand their problems and learn new ways to solve them. But, Excel School also presents me with an interesting analytics challenges. In this post, I will share 2 pivot table based analytic techniques I used just yesterday to answer few questions I had about Excel School sign-ups.
Watch this 15 min. video to see how I analyzed the data
Continue »
This is a guest post written by Paramdeep from Pristine. Chandoo.org is partnering with Pristine to bring an excel financial modeling online training program for you. This is Part 6 of 6 on Financial Modeling using Excel In this tutorial we are going to learn how to build assumptions & input sheets in our excel […]
Continue »
We all have been there. You started to build a simple workbook to keep track of an ongoing project or dashboard or something equally complicated. Even before you realize the workbook has 23 sheets and 41 named ranges all going from one place to another, like flying spaghetti monster, only less awesome. Now, how do […]
Continue »
Here is a little experiment to freak out excel.
Go to cell C3 and write =C3 and press Enter. Excel would throw up nasty message saying, "Microsoft did not know what to do. We have a sent a support engineer to your home, but he is stuck at the round-about near your house."
Well, not really. But what you did when you wrote the formula =C3 in cell C3 was, you created a circular reference.
A circular reference is created when you refer to same cell either directly or indirectly.
See Mona Lisa, in circular reference style.
Learn more about Excel Circular References, how to use them, examples, how to avoid them, how to deal with them in this article.
Continue »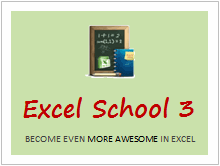 Hello reader, my friend & supporter,
I am happy to announce that Excel School is open and ready for registrations.
Visit Excel School page to learn more and sign-up.
In this post, you can find some information about the program and links to sign-up.
Continue »