All articles in 'Charts and Graphs' Category
Last week I introduced the technique of using custom Number Formats for Chart Axis labels.
Today I present a few more alternative layouts including Chart Series Data Label Formats.
Continue »
A few weeks back, John asked a post question, " How can I add a £ to the 80 on a Chart axis and leave the rest of the numbers plain numbers ? "
Custom Number Formats, That's How.
Continue »
You've been there before. It's almost 5:00, and you are going crazy trying to finish the presentation due for a monthly performance meeting the next morning. The model is refreshed, and now it just takes a LOT of copying, pasting, and positioning to get the PowerPoint ready. Finally, the slides are finished…, until you read a new message from your boss requesting a minor change. But of course her change means you have to start all over with the copy and pastes…
There is always a better way! In the Oil and Gas industry, I constantly have monthly reports to assess the performance of our operating assets. Excel VBA makes it a cinch to automate the entire process. So when a simple change is requested, the presentation is automatically generated with the click of a button. No more wasting time!
Continue »
Last week we learned how to create dynamic hyperlinks in Excel. Today, I want to show you something even cooler. An interactive dashboard based on hyperlinks, like shown above.
Isn't it impressive?
Well, to create something like this, you don't need a degree in advanced cryogenics. You just need a bunch of data, a chart, a one line macro code and some pixie dust (go easy on pixie dust).
Continue »
Our Sales Analysis Chart Contest is over and the winner is….,
Oh, wait!
I have decided to award the prize to 2 contestants. Each of them will get an Amazon Kindle Reading Device.
The winners are,
Continue »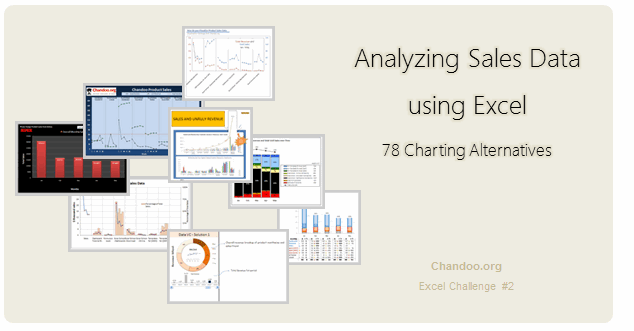 Recently, I ran a contest asking you to analyze a bunch of sales data and present your results in charts. We received a total of 78 charts from 45 people. The contest entries had a mind-boggling variety of excel charts, techniques and ideas. It took me a while to go thru all the files and compile the results. Thanks for your patience. In this post, you can find all the charts along with my comments & links to download files.
Continue »
Over at Newton Excel Bach I spotted the Dynamically Defined Dancing Pendulums. Doug had used Strand7 for the animation.
I thought I could do that in Excel and did.
This post demonstrates some of some basic VBA techniques used to simplify repetitive tasks used during the construction of the project.
For a full project description visit Excel Hero.com.
Continue »
Last week, we learned how to create win-loss charts in Excel. In the comments, Dan said,
"Incidentally, the fastest way to do this would be using SFE, just reflect your data with 1 for a win, – 1 for a loss. There's even an option to automatically invert negative numbers."
Of course, we can use the beautiful Sparklines for Excel addin to do this and several other charts. But if you just have a series of Wins and Losses, like below, you can use a column chart to create win loss charts too.
Today, we will learn how to create a win loss chart from a set of win, loss data in Excel.
Continue »
Win Loss Charts are an interesting way to show a range of outcomes. Lets say, you have data like this:
win, win, win, loss, loss, win, win, loss, loss, win
The Win Loss chart would look like this:
Today, we will learn, how to create Win Loss Charts in Excel.
We will learn how to create Win Loss charts using Conditional Formatting and using In-cell Charts.
Continue »
We have a new Excel Challenge folks!
I know our friends in US are away celebrating Memorial Day weekend. But that should not leave rest of us from fun. So, we have a new Excel Challenge. This time, you need to make a chart, to visualize product sales data.
And what more, one lucky person could get an Amazon Kindle Reading Device (Wi-fi version) by making the chart.
Continue »
I have a quick announcement for you.
Registrations for our VBA Class will be closing in a few hours
As you may know, we have opened registrations for our first batch of Online VBA classes on May 9th. This program is aimed at beginners & intermediate level VBA users. The aim of this course is to make you awesome in VBA. We will be closing registrations for this program in few more hours (exactly at 11:59 PM, Pacific time, on 20th May 2011)
Click here to join our VBA Class now.
Continue »
Today, we will take a detour to world-wide web and learn how we can improve our dashboards, reports, presentations or workbooks by using one of the ideas, called as Golden Triangle.
Continue »
Last week, we have learned what Pivot Table Report Filters are & how to use them.
Today, I am going to show, how you can use simple macro code to change the report filter value dynamically.
We will learn how to create the chart shown here.
Continue »
This is a guest article by Theodor on how to Compare Sales of One Product with Another
Ok, now here's one for you.
Suppose you'd like to come up with a sales report on different products, comparing their evolution on the same period of different years (say Jan '09 vs. Jan Jan '10). At the same time, you'd like to keep an eye on their yearly trend (entire 2009 vs. entire 2010).
Read on to learn how you can use Excel Charts to do this very easily.
Continue »
I know I am late to the party, but better late than…, uh! forget it.
As the keen readers of our blog knew, I like cricket and I show my enthusiasm by making an excel dashboard (or info-graphic) whenever Indian team reaches a major milestone. So naturally, I was super excited when we won the ICC World cup 2011. Last time Indian won the event was in 1983 and my idea of a dashboard at that time was a bottle of milk and jingo-bell, my favorite shake-to-make-annoying-noise toy. I think our latest world-cup victory deserves something more than that. So here we go.
Continue »